History
We do try to keep a record of projects and when someone has  remembered to photograph them it is great to be able to look back and see what we achieved!
From small beginnings
It is amazing what a bunch of creative people will come up with!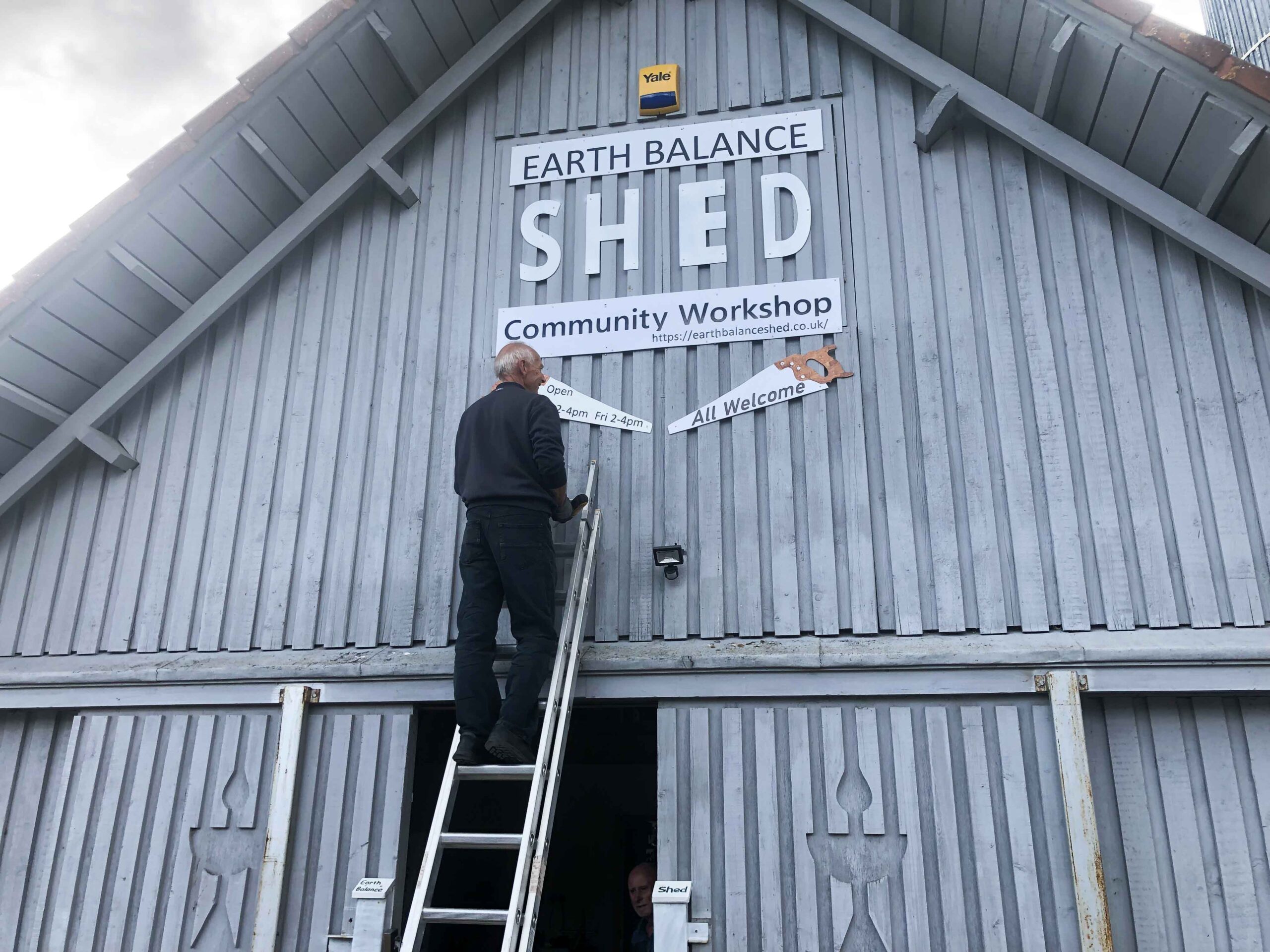 August 2022
Last bits of the sign being added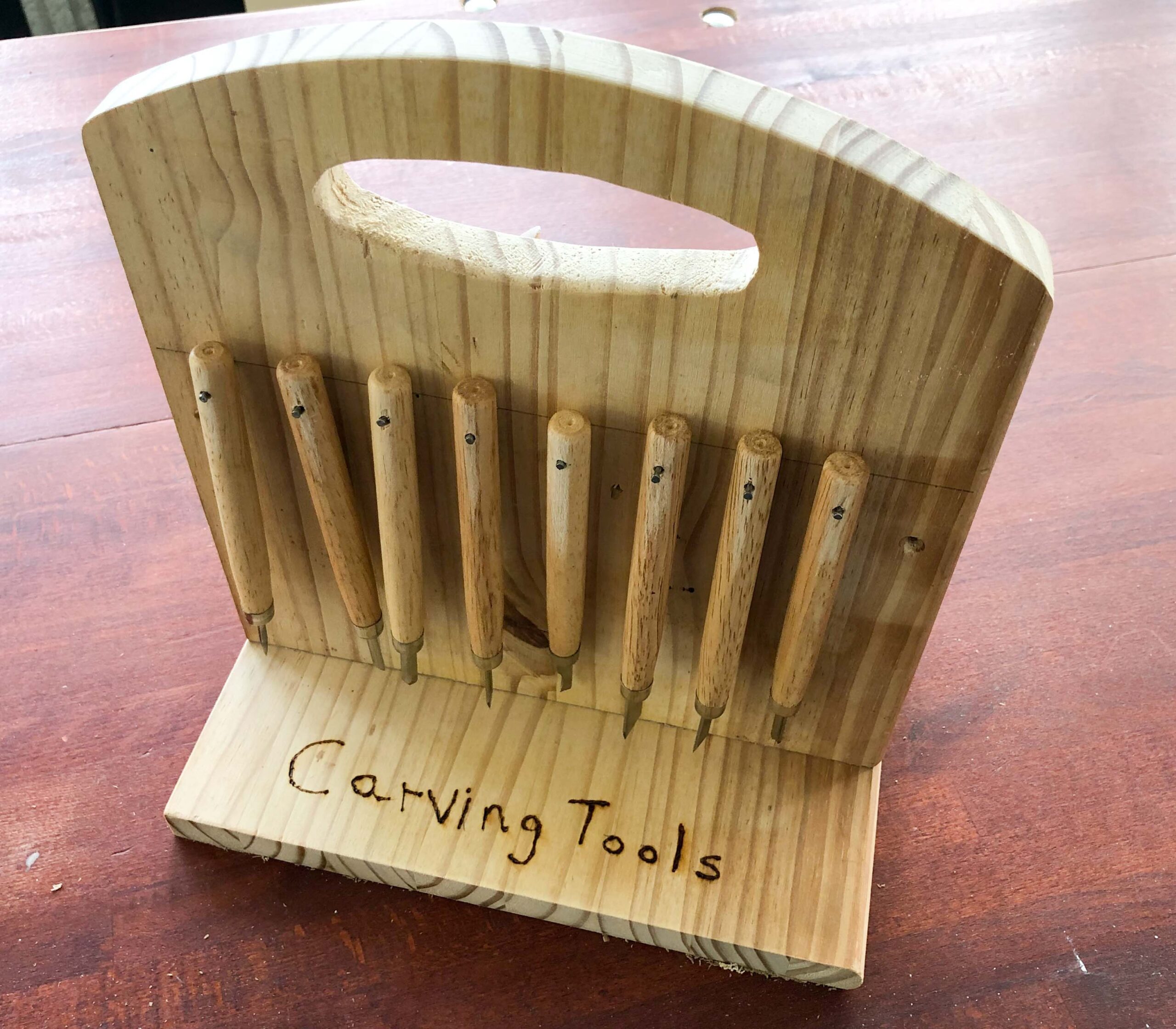 July 2022
Keith made this rack to hold our new carving knives.
July 2022
Rob and Keith used off cuts to make another woodwork bench,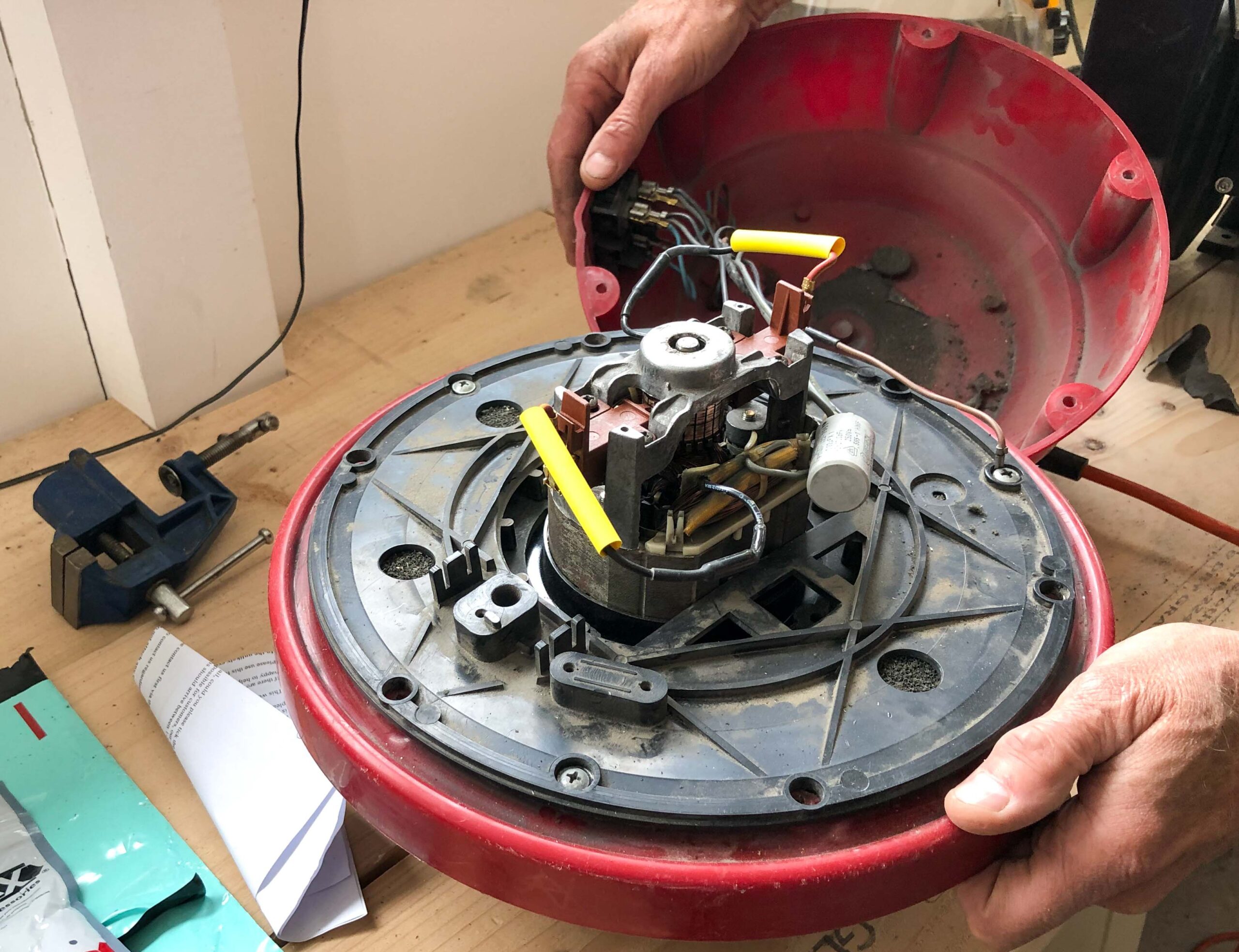 July 2022
Our favourite dust extractor motor had a worn out motor.
Brian made a new bearing,
which failed,
so he made a better one,
but the brushes were worn, so he got new ones,
which didn't fit,
So he cut them to fit,
And now it works fine!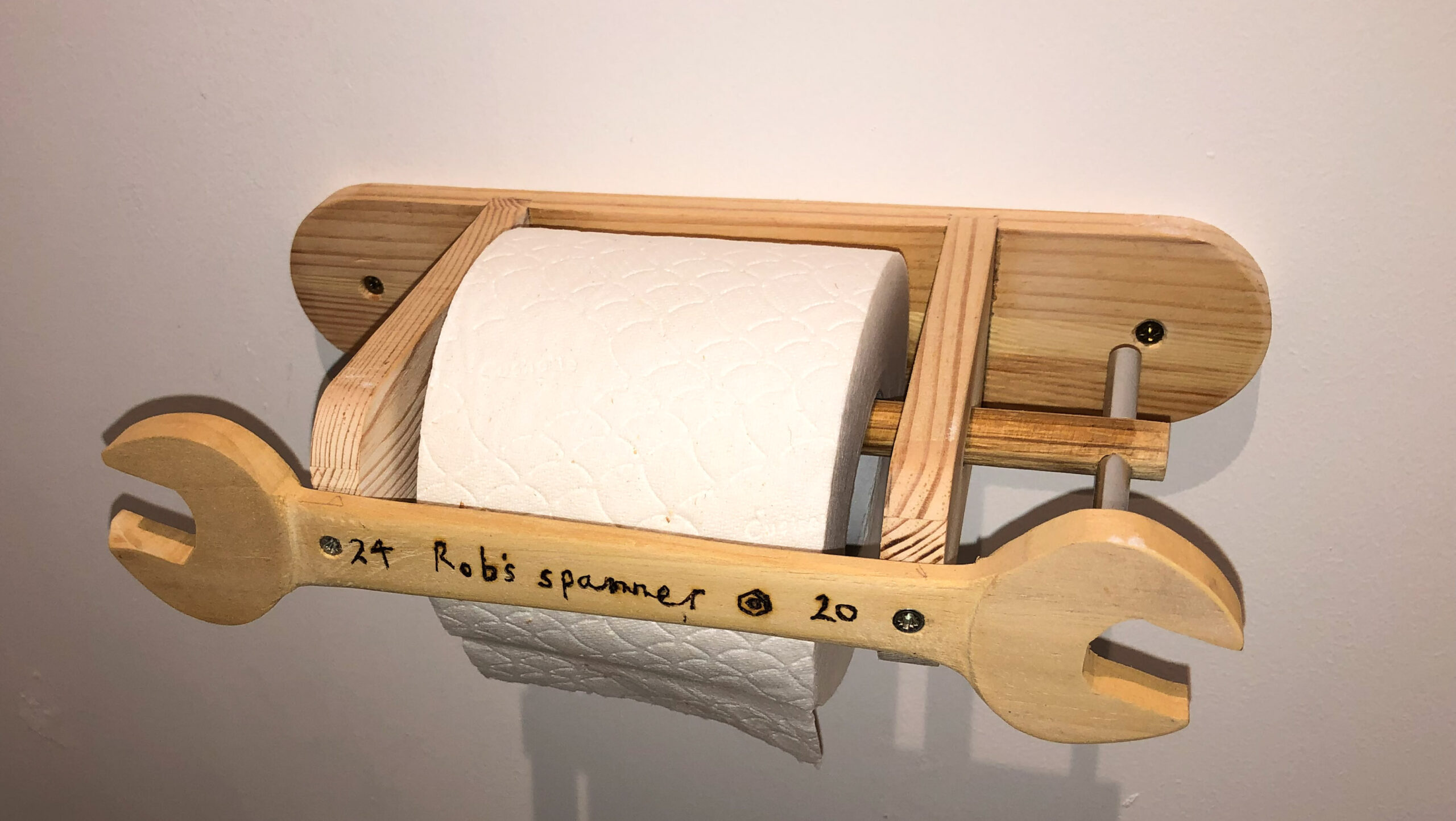 July 2022
We always knew Rob's wooden spanner would be useful one day! There cannot be a shed with a better loo roll holder than this made by Keith.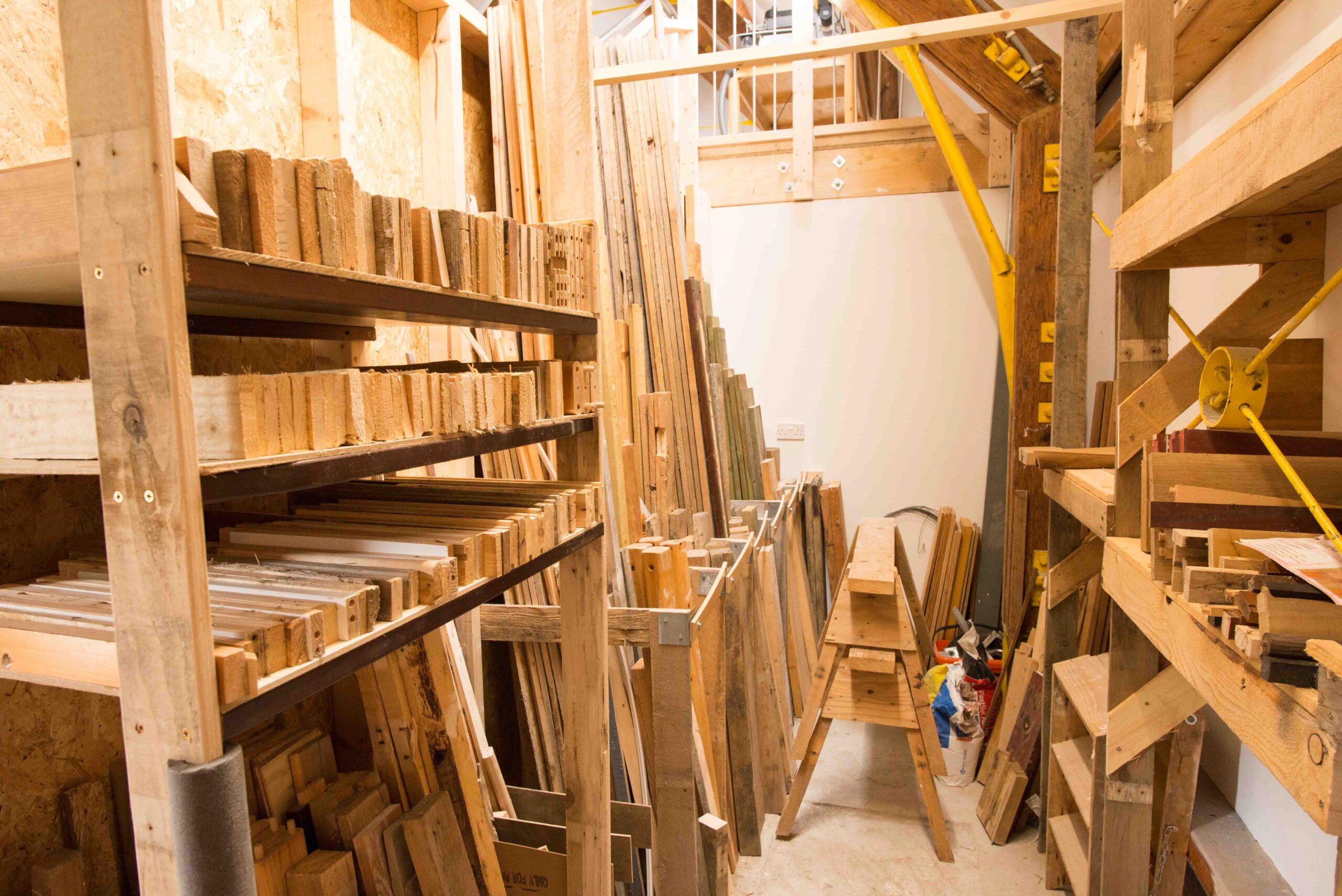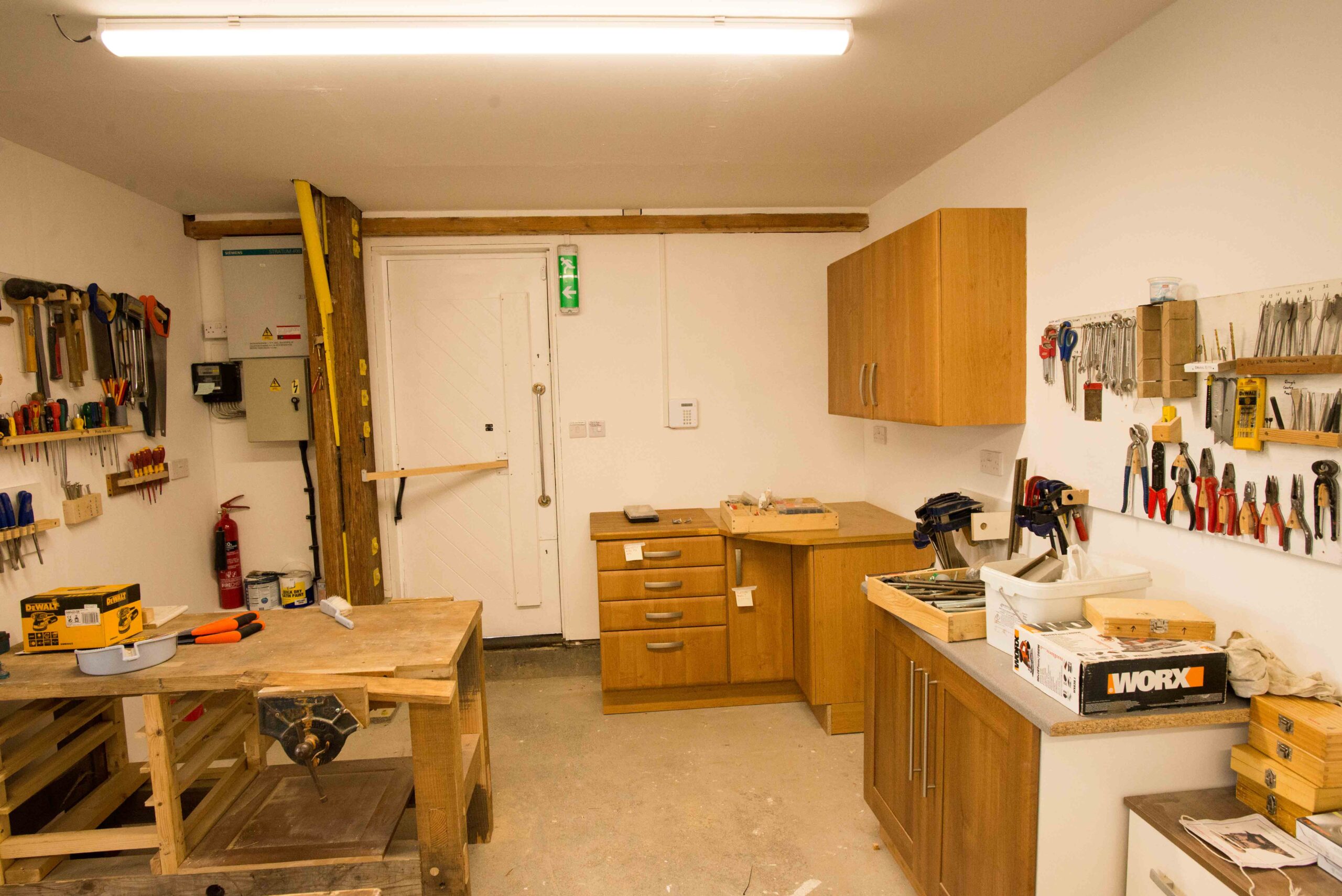 June 2022
Every bit of wood has its place.
We are so organised! Now just a bit of tidying!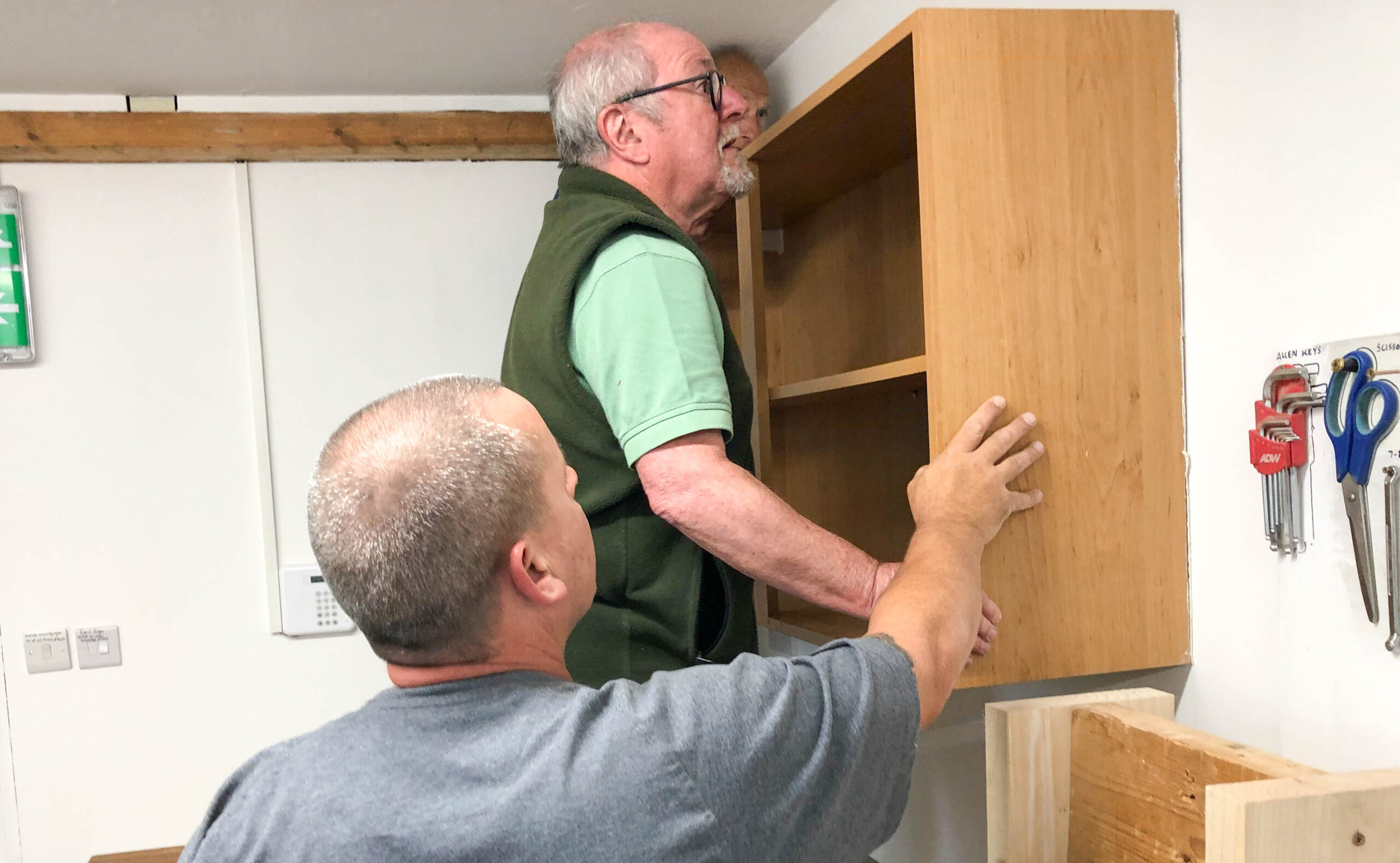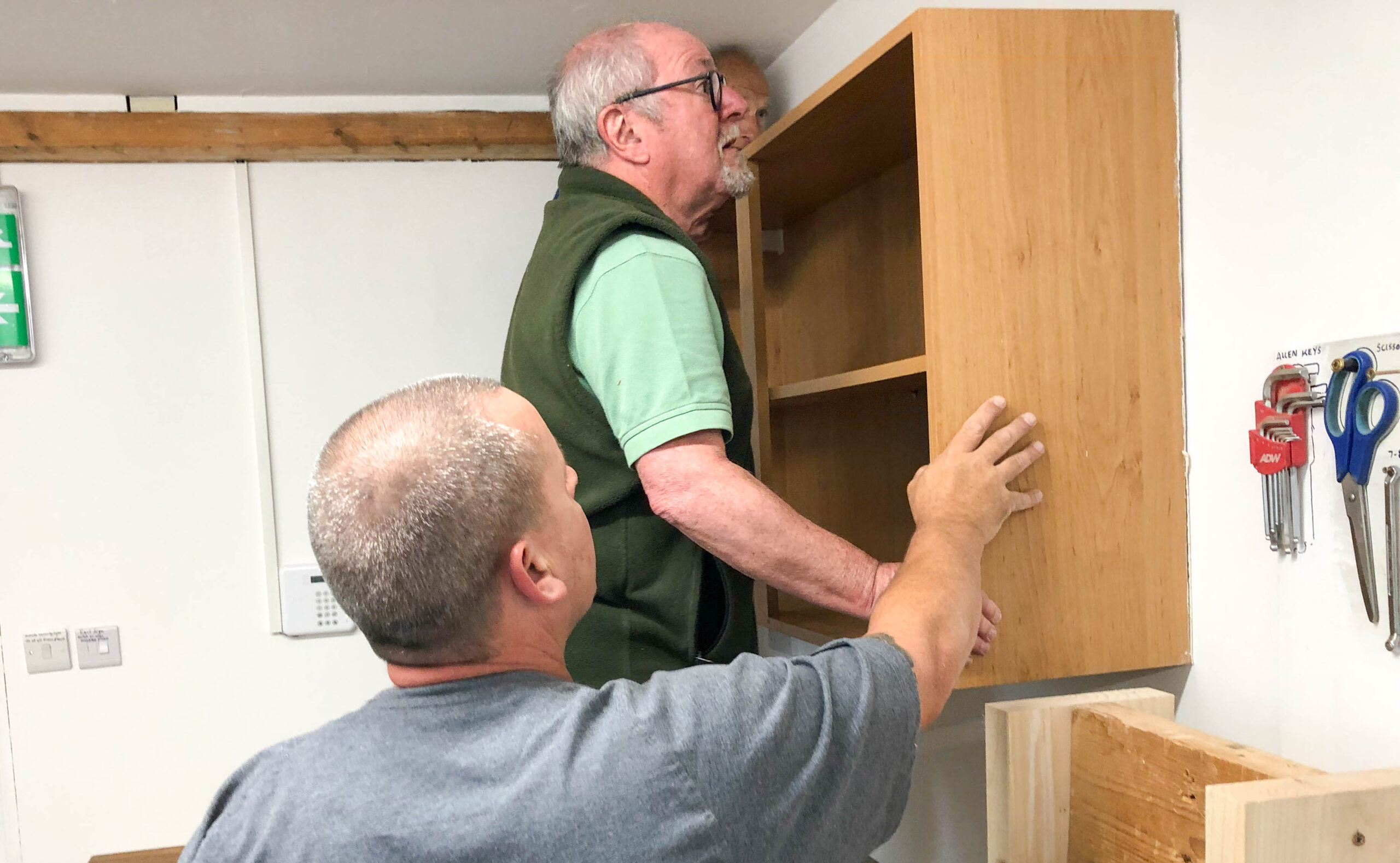 June 2022
Hanging new units.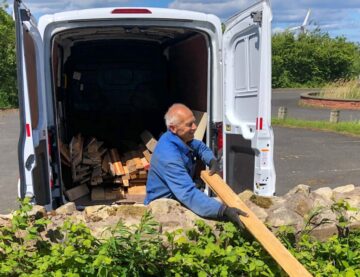 May 2022
Brian organising getting our timbers to the new shed.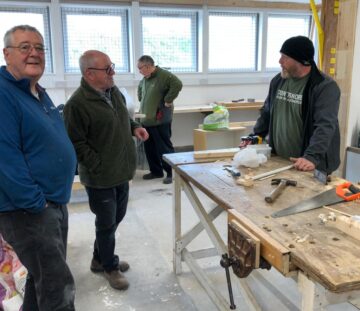 May 2022
The important bit – shall we have a cup of tea?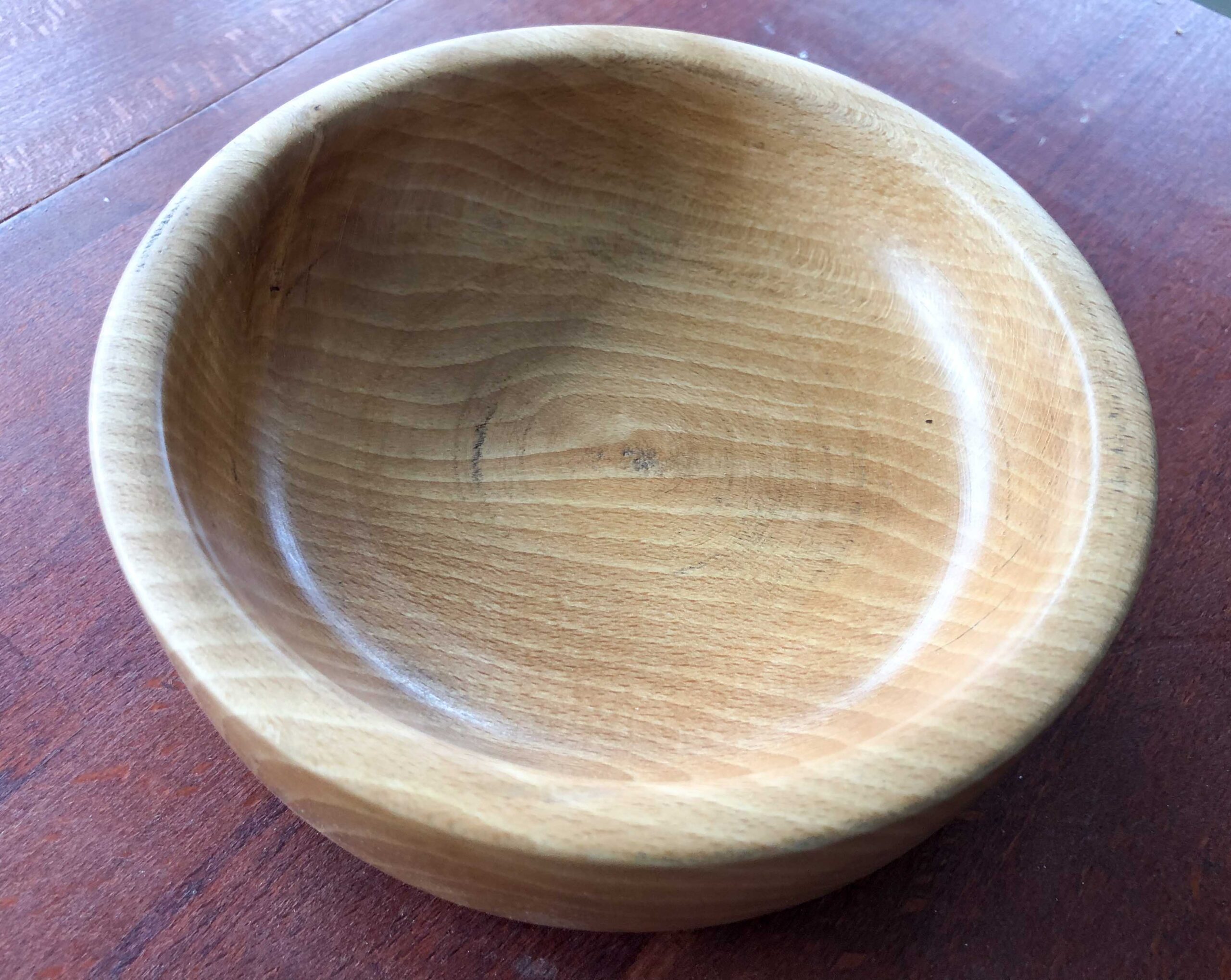 July 2022
Brian got the new lathe working and made this excellent beechwood bowl.
July 2022
Brian fixing the new shed sign made by Rob and Keith.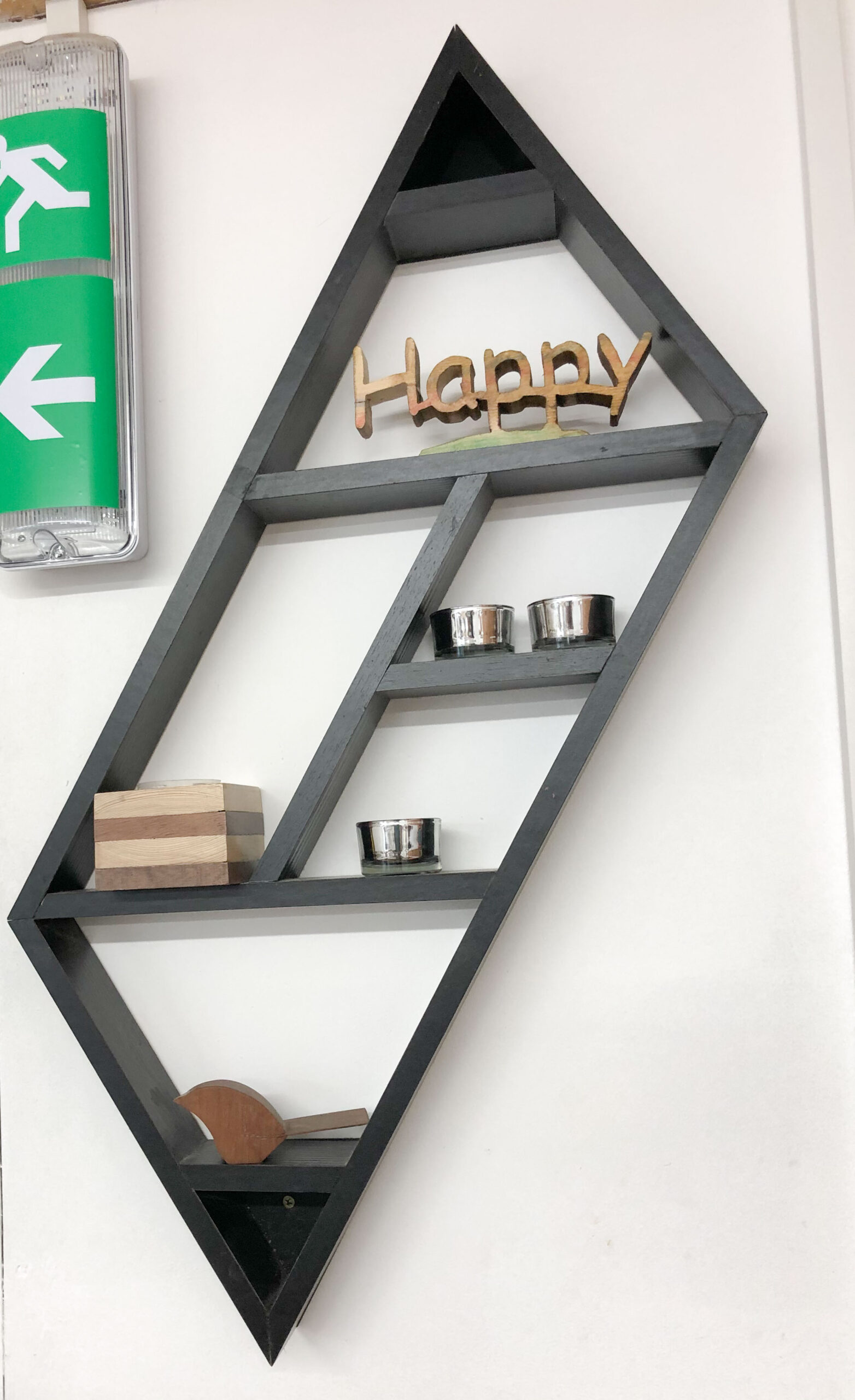 July 2022
Brian moved some shelves to the new shed so we can display small projects.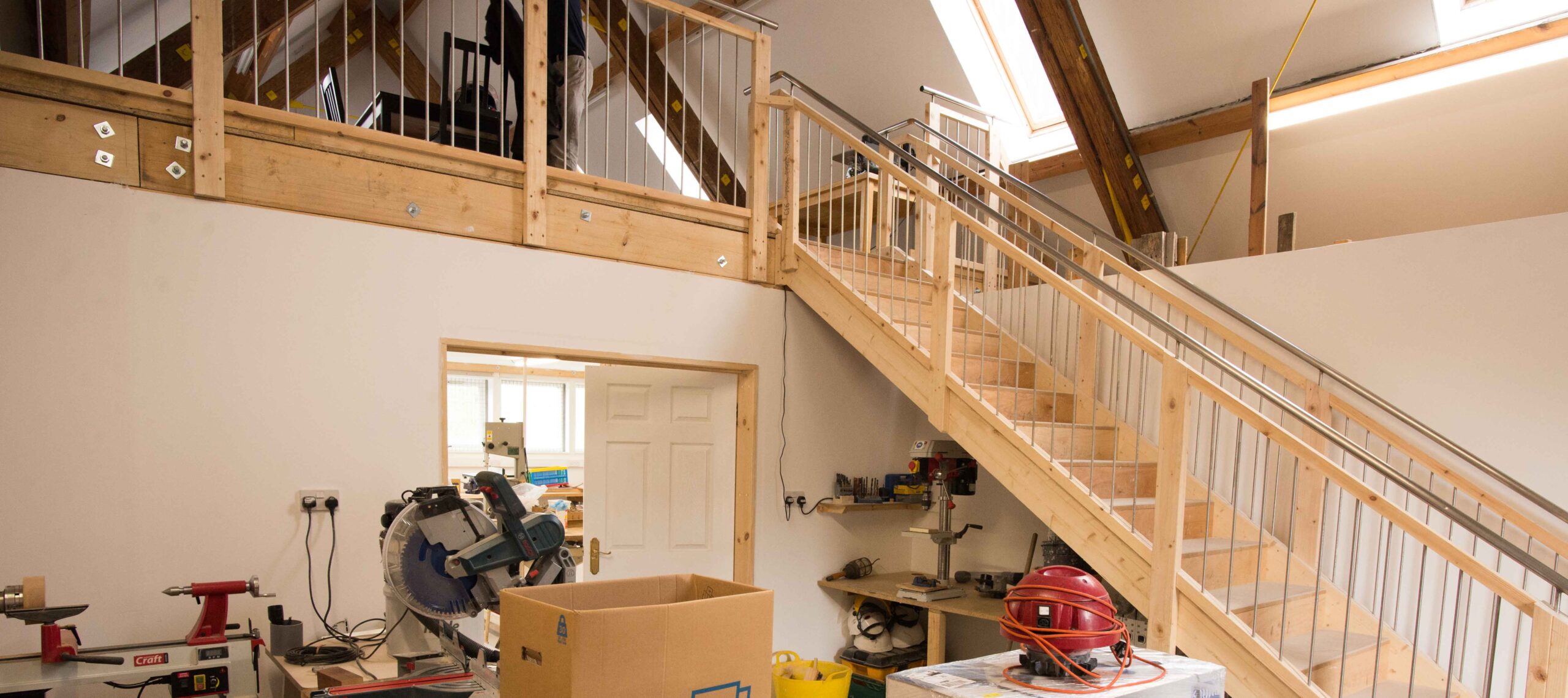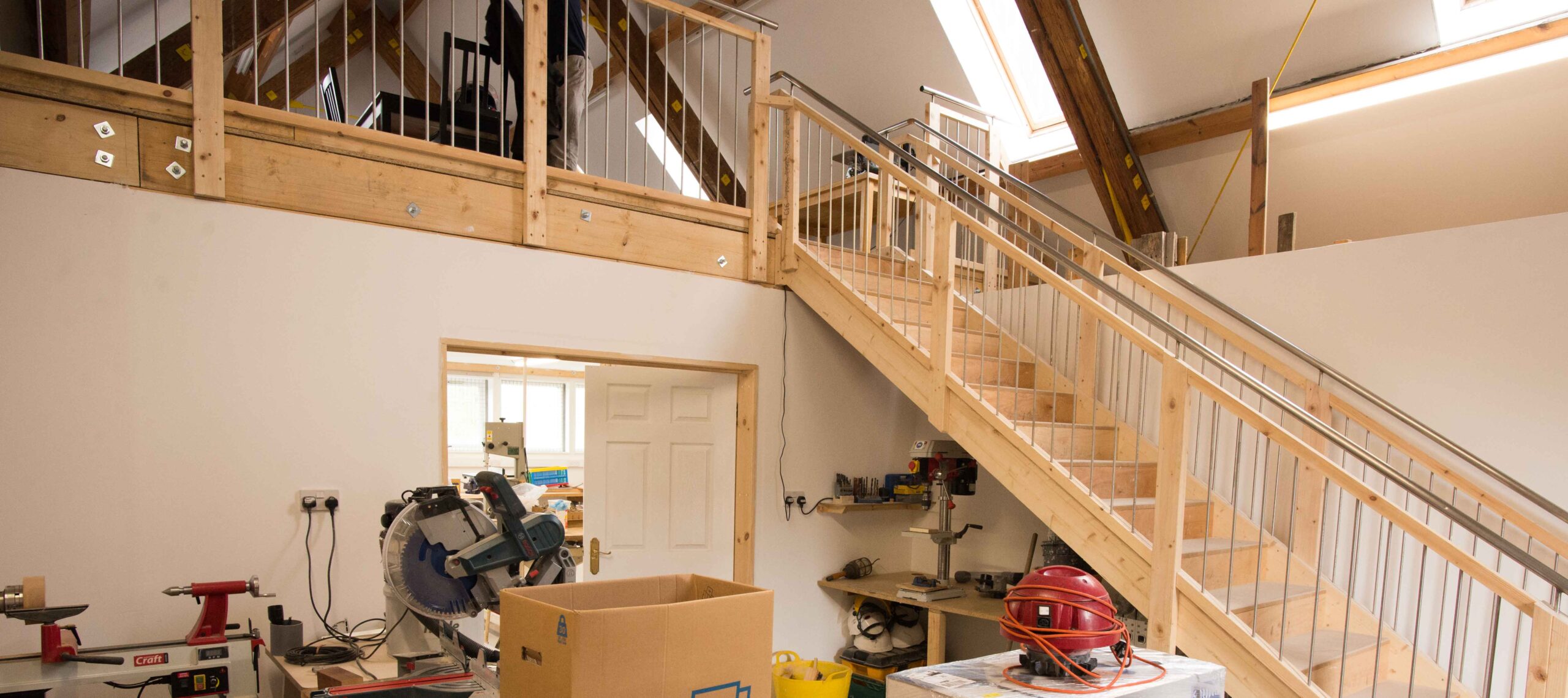 June 2022
Tea urn takes pride of place.
The drill just about fits under there.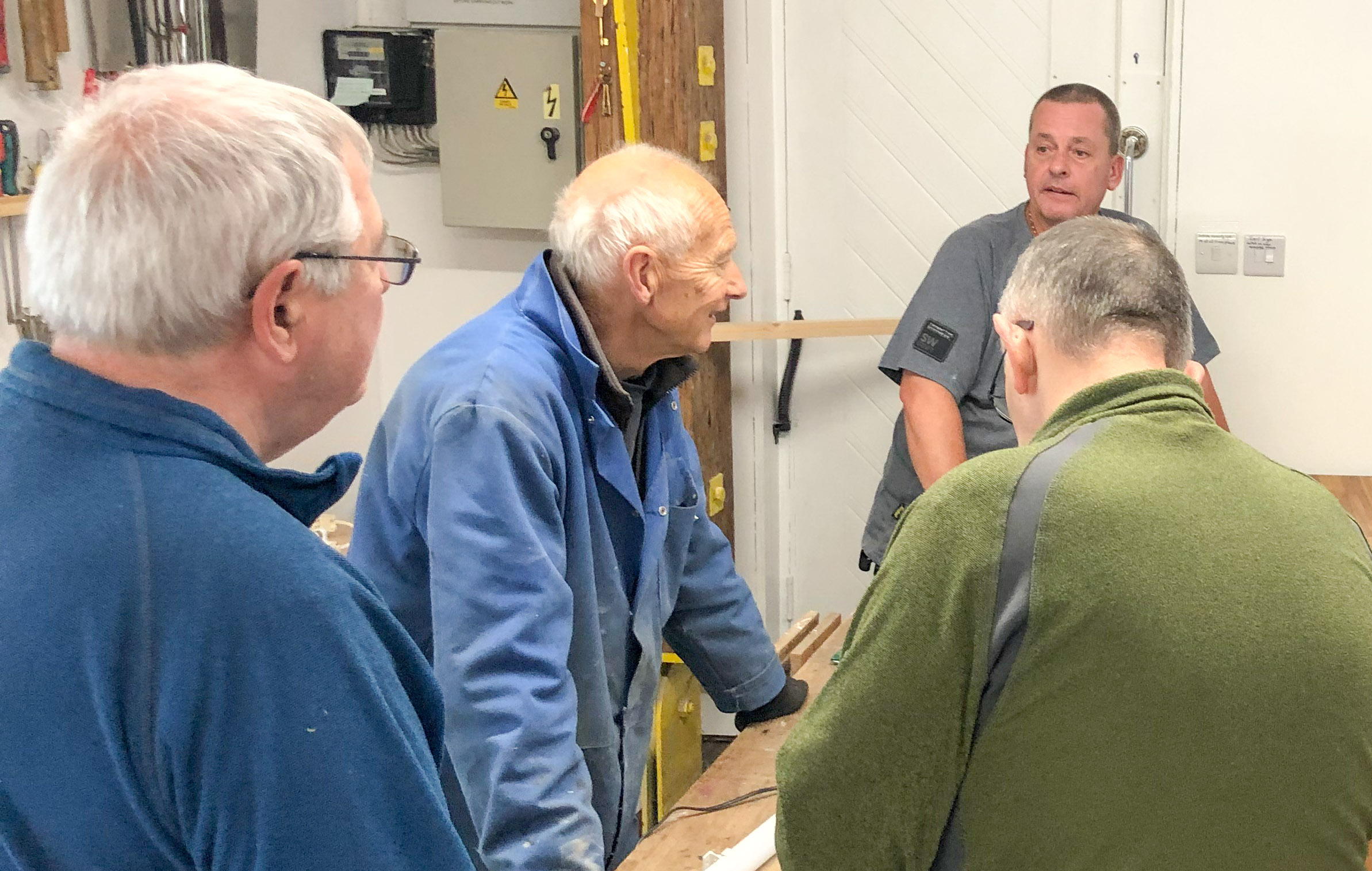 May 2022
Planning meeting number 33.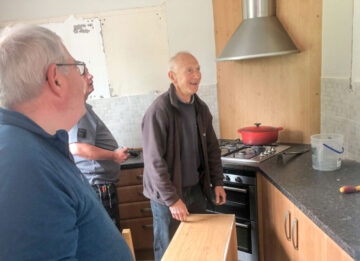 May 2022
Dismantling the Warkworth kitchen.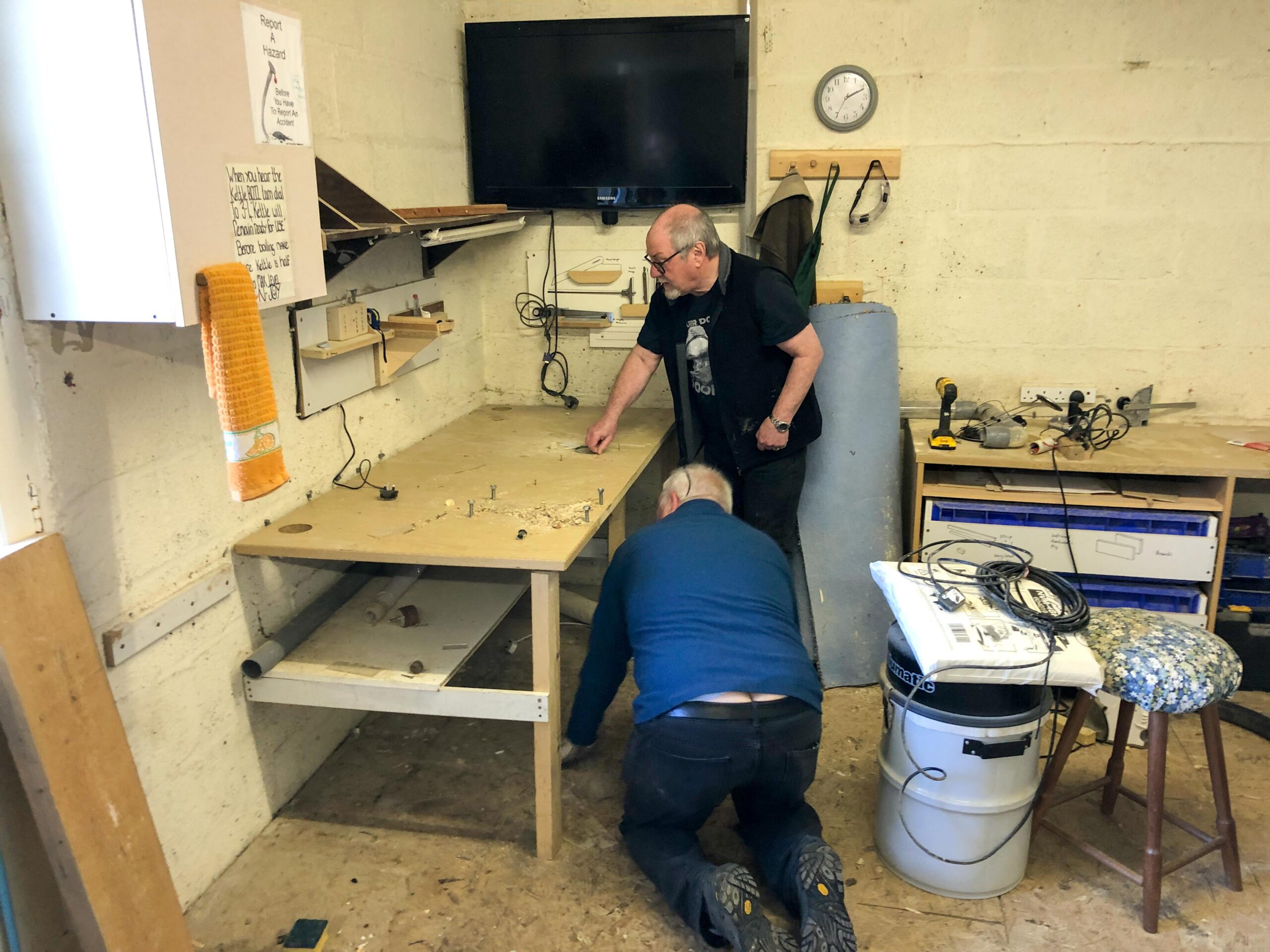 April 2022
Dennis and Adrian clear another corner of the old shed.
March 2022
A new community task – fix a broken sleigh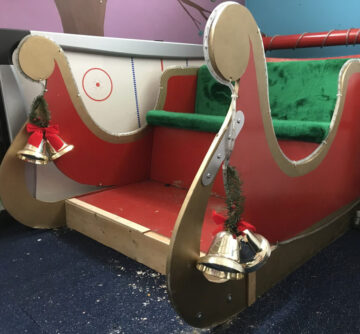 March 2022
Brian and Keith soon got it repaired.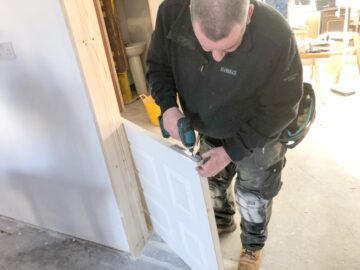 March 2022
Phil was unfazed by second hand wobbly doors and soon had them fitting perfectly.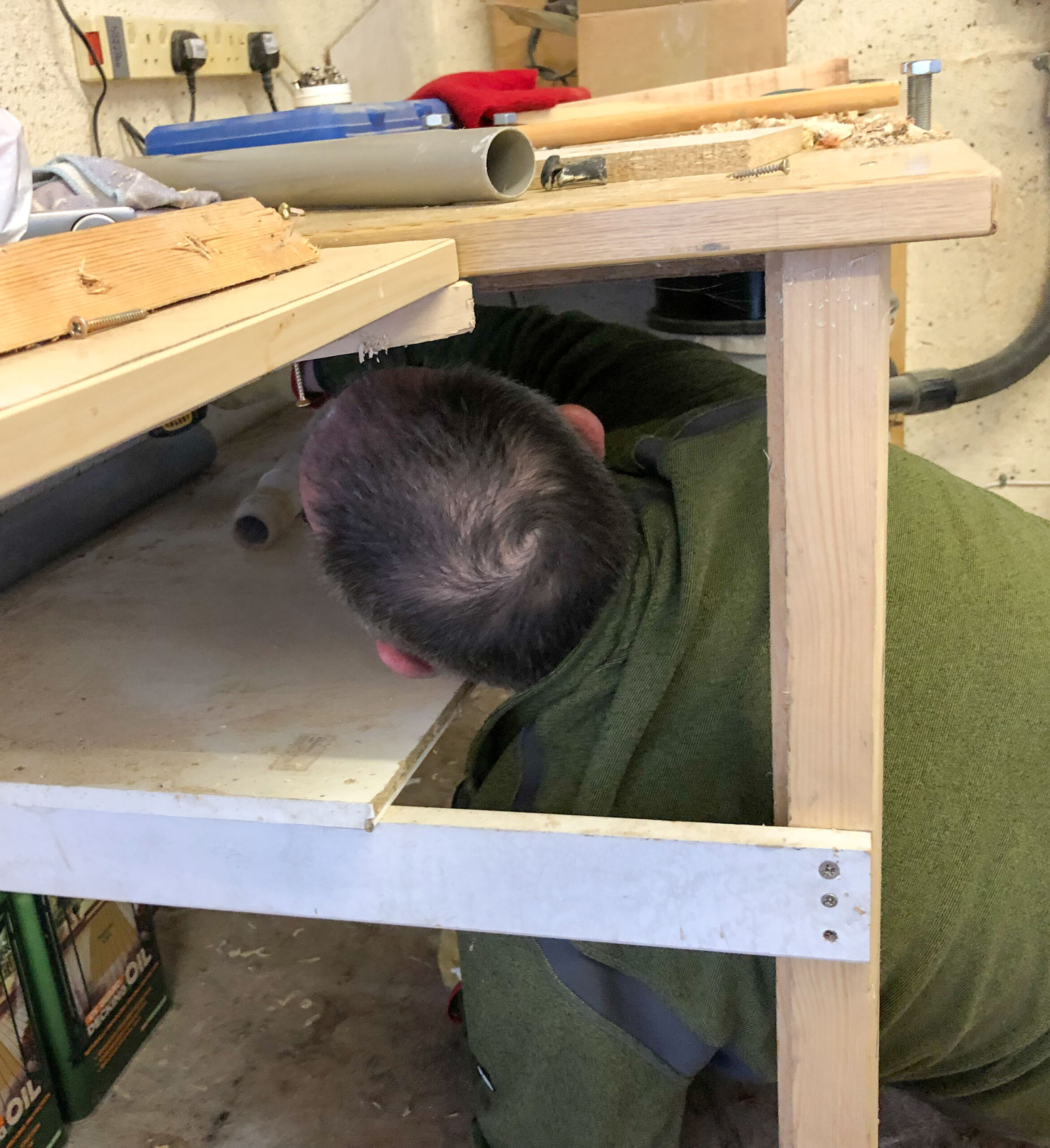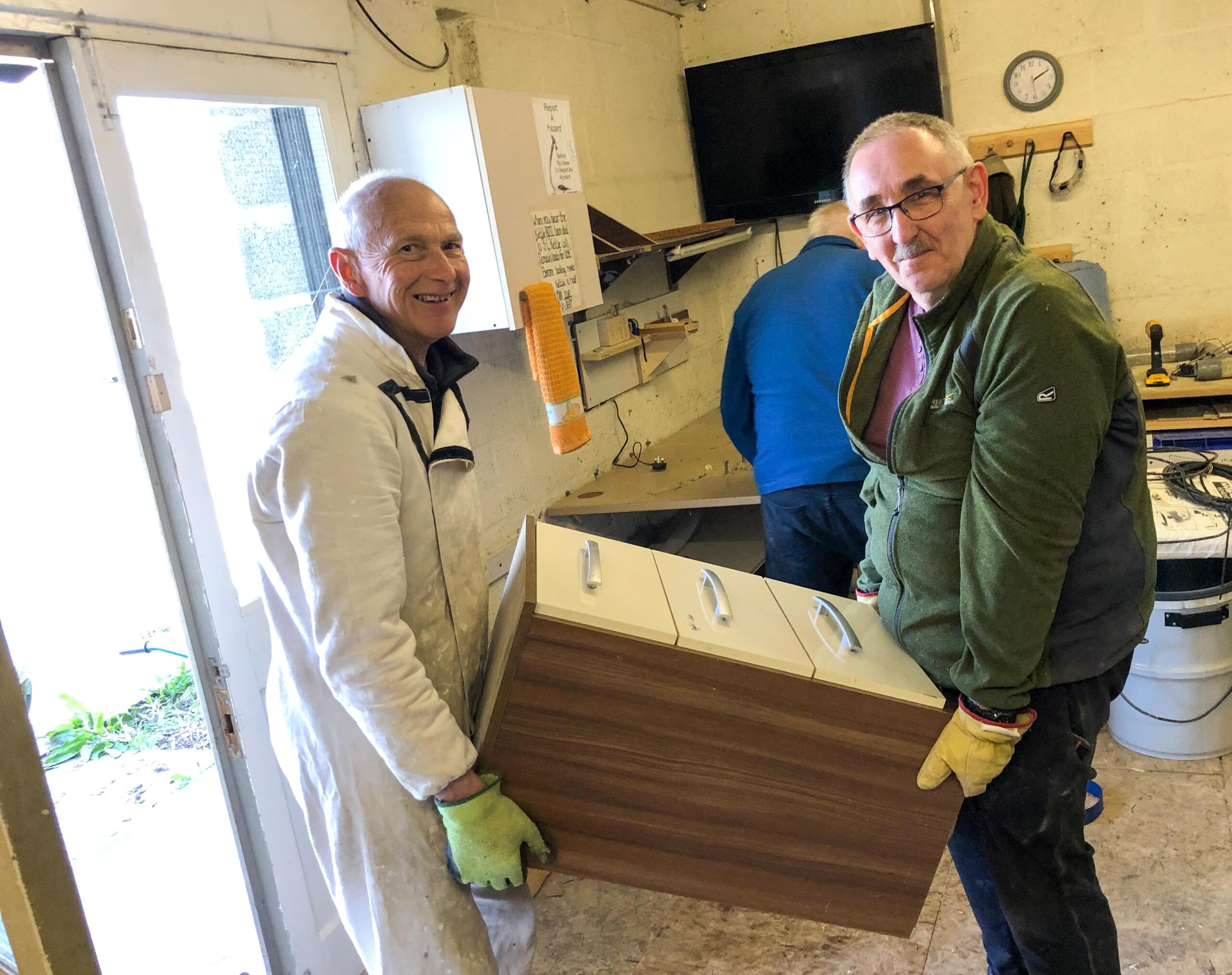 April 2022
Keith investigates how this bench was fixed.
Brian and Keith removal day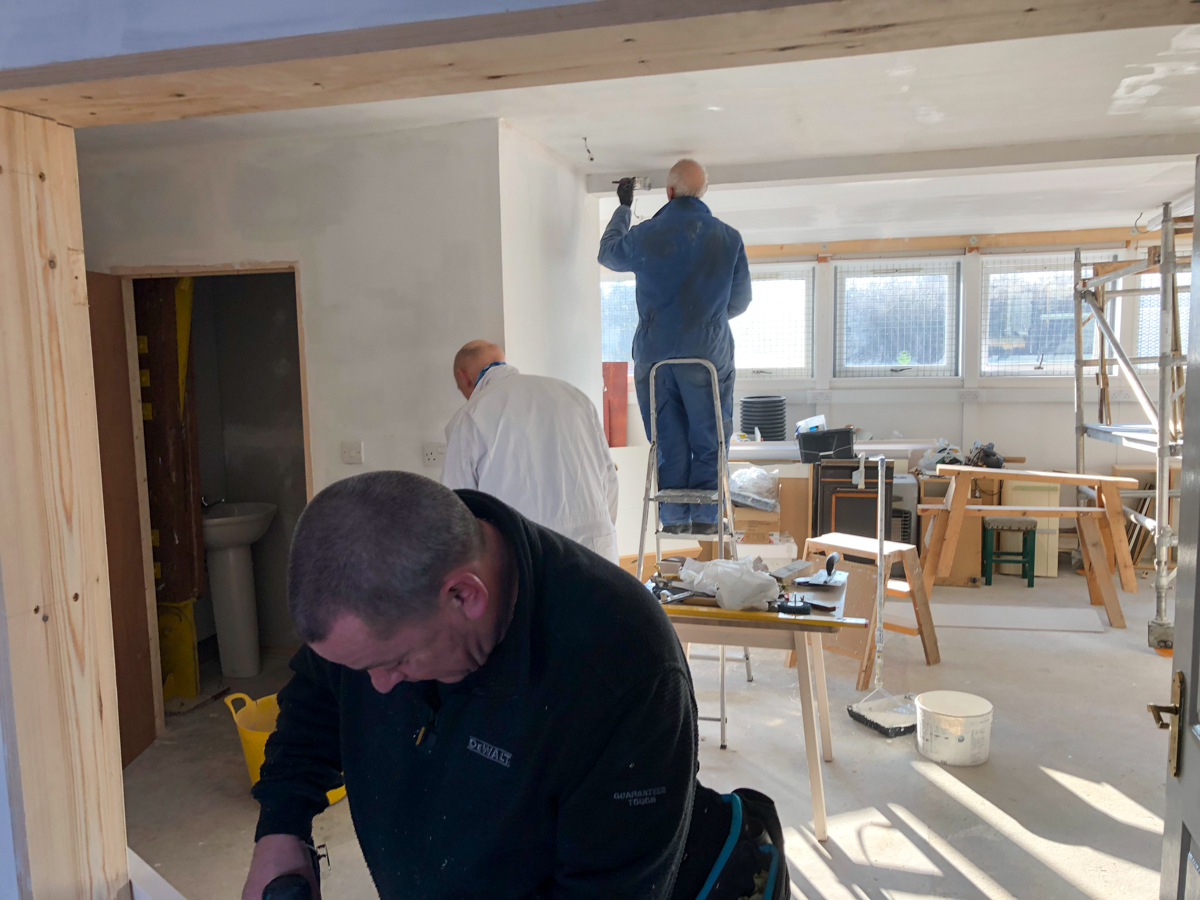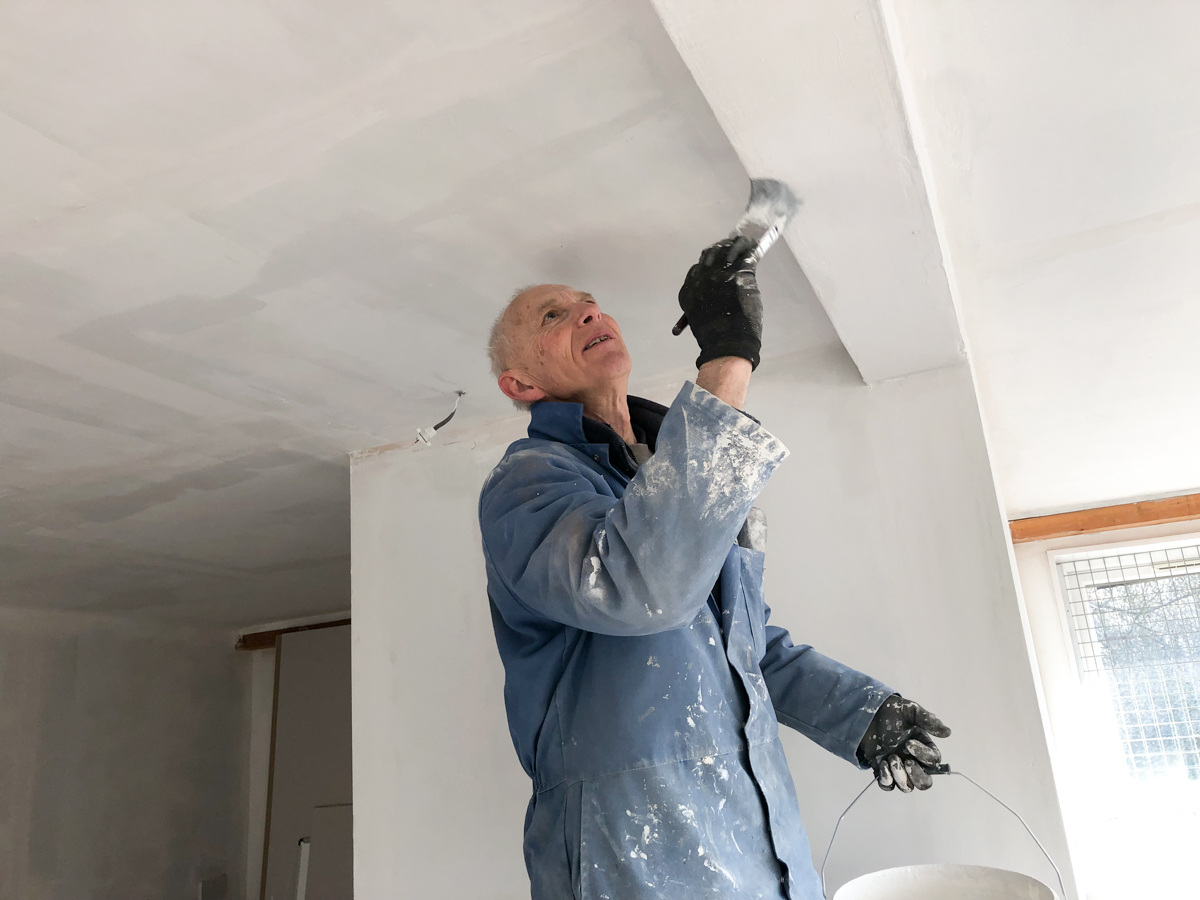 Phil, Graham and Brian cover everything in Brilliant white.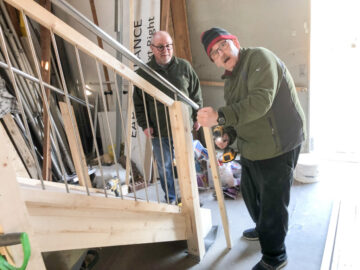 March 2022
Dennis + Keith started building the balustrade with stainless steel rods. Later it was finished in double quick time by Brian.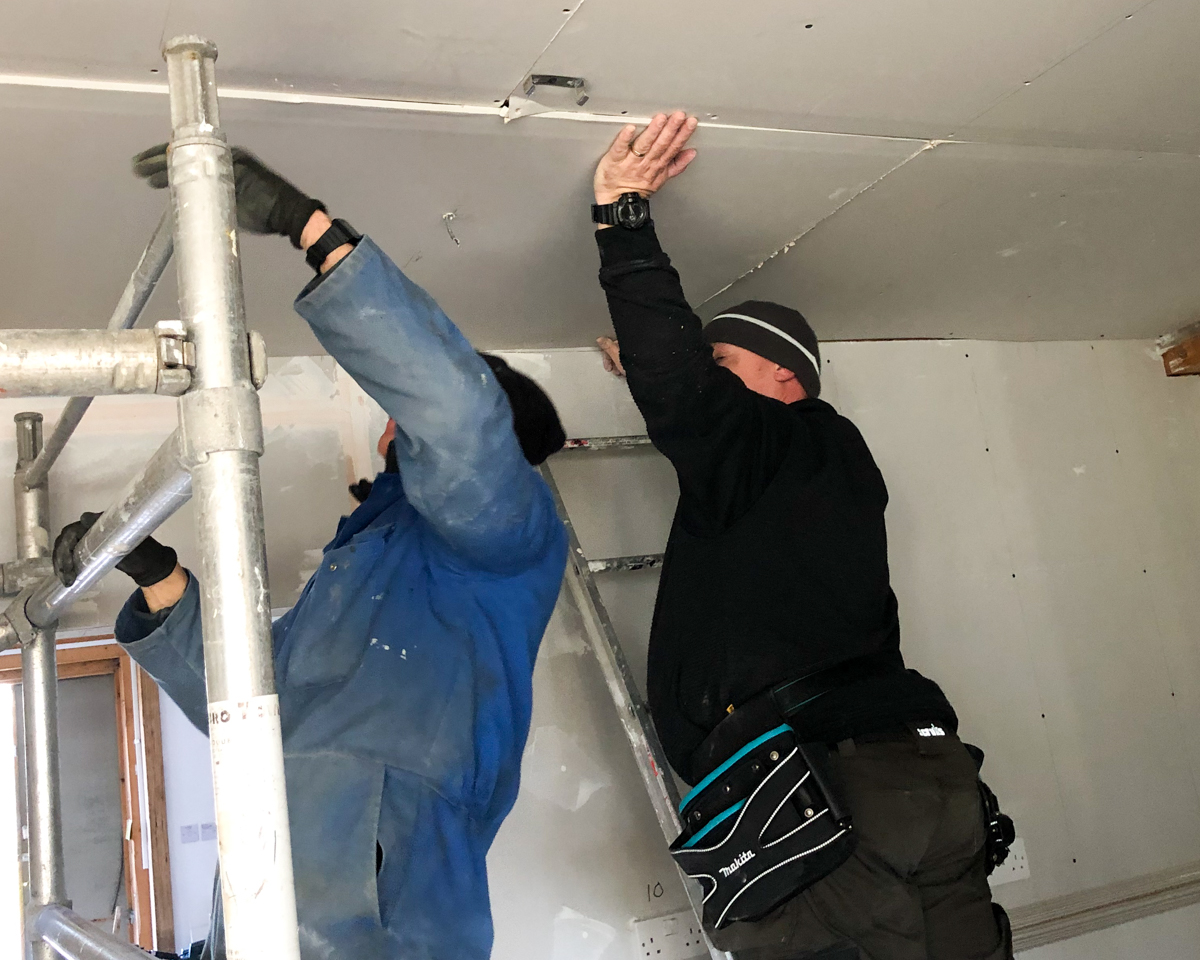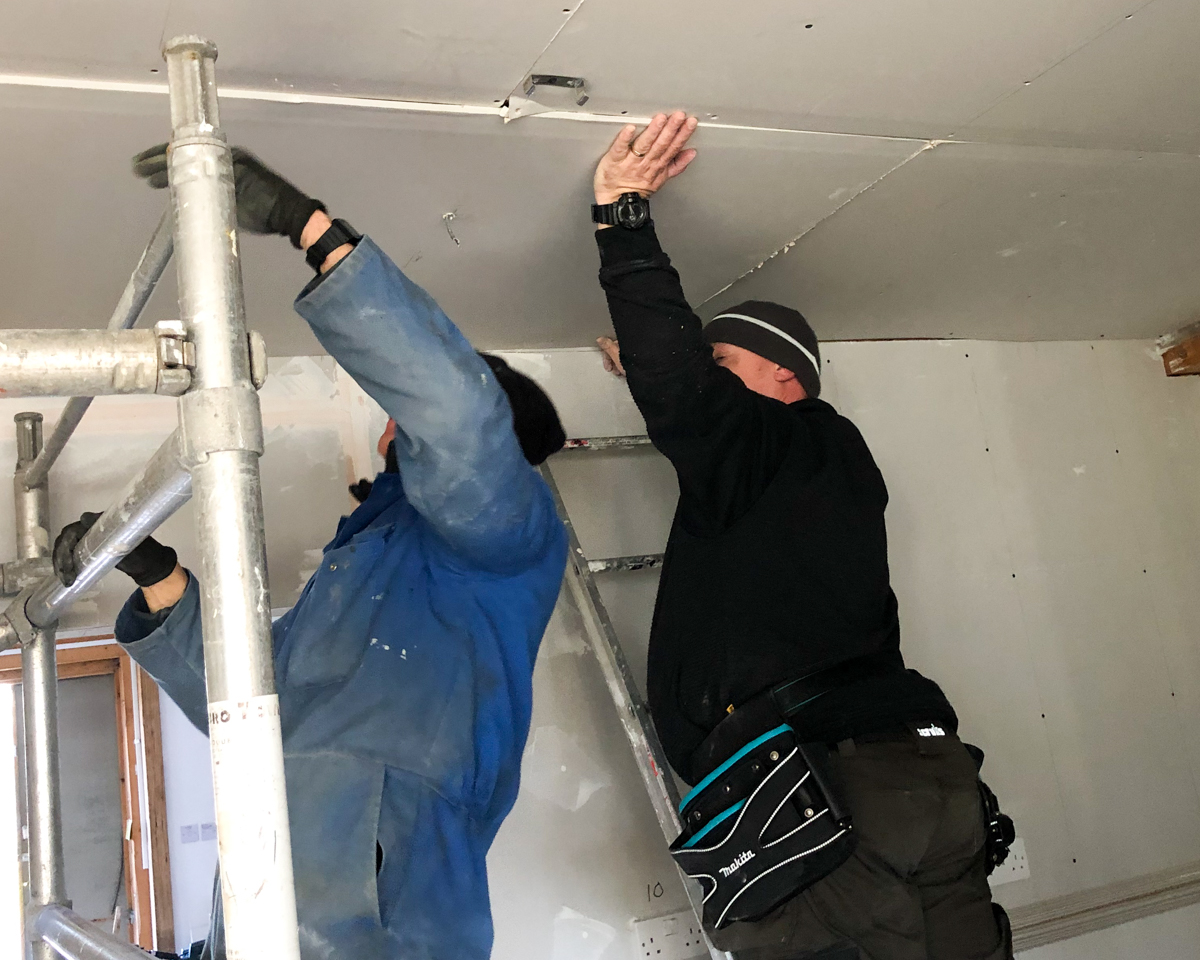 February 2022
Brian and Phil got quick at putting 31 screws in every ceiling board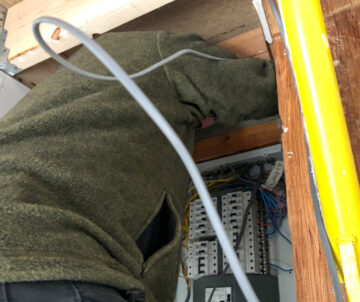 February 2022
Dennis got 4 ring mains and three lighting circuits into the distribution box, mind he never quite got himself in there!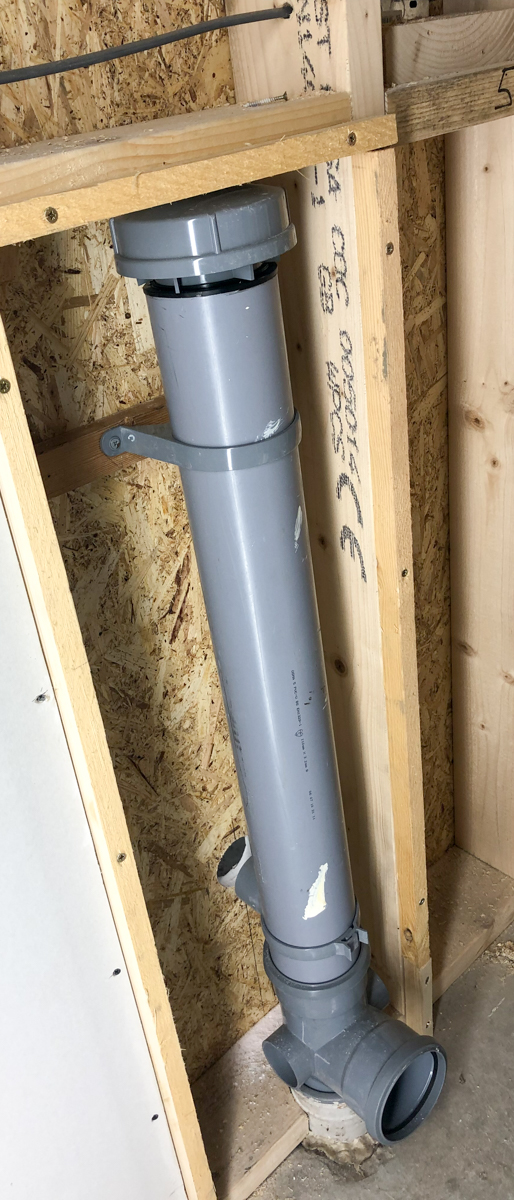 Rob was really happy with his air admittance valve – nobody else noticed.
Finding the hidden support by drilling and drilling again!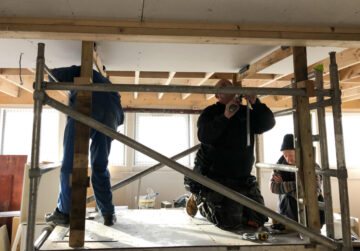 February 2022
Brian's board lifting aid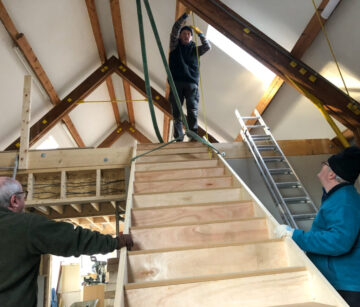 January 2022
As we heave the new stairs into position Graham checks for the required 2m headroom.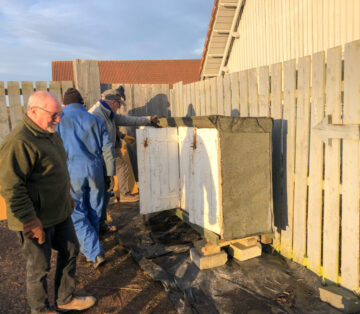 January 2022
North East Organics veg box collection cupboard had been blown over in the December storms. Brian took on the task of repairing it and setting it up in a better position.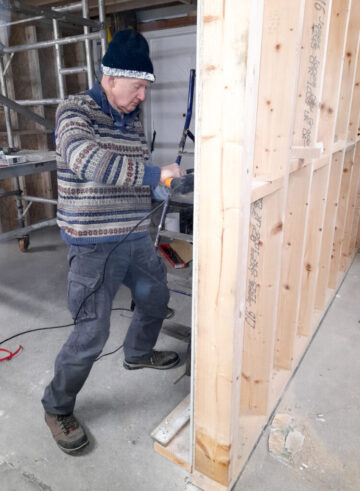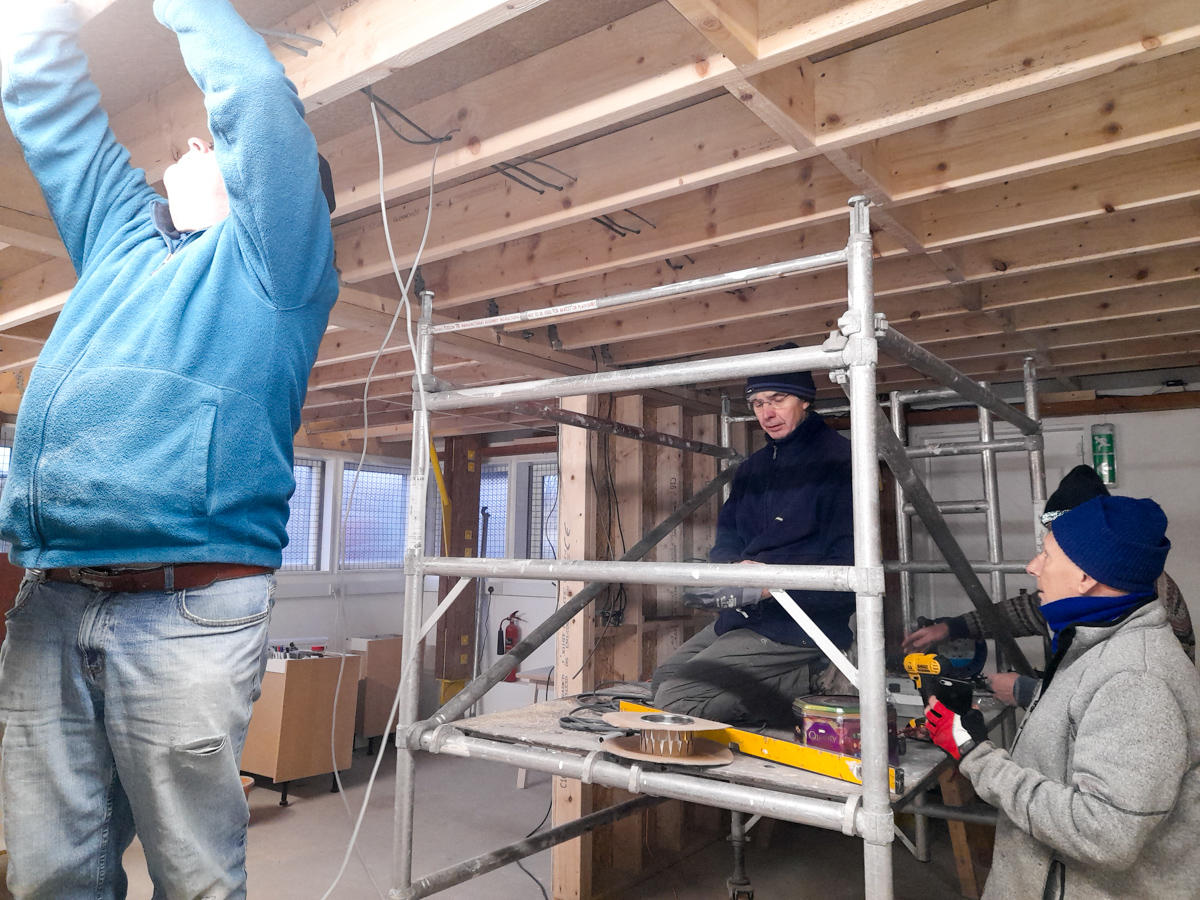 December 2021
Graham O cutting holes in the plaster ready for the sockets.
Rob finds the scaffold is a good place for a nice little sit down.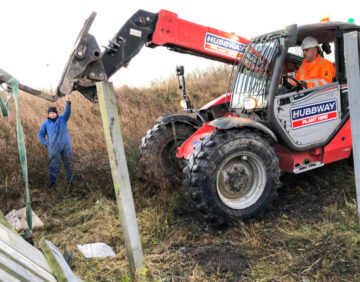 December 2021
Meanwhile, after the storm Brian takes on the job of fixing an Earth Balance fence and gate.
Here he gets a railway worker to help extracting the broken posts.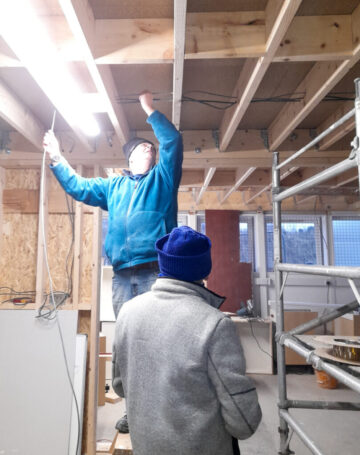 December 2021
We haven't finally decided whether to add the planned toilet, but here Adrian is doing the 'first fix' for the lighting and extractor fan circuits, just in case!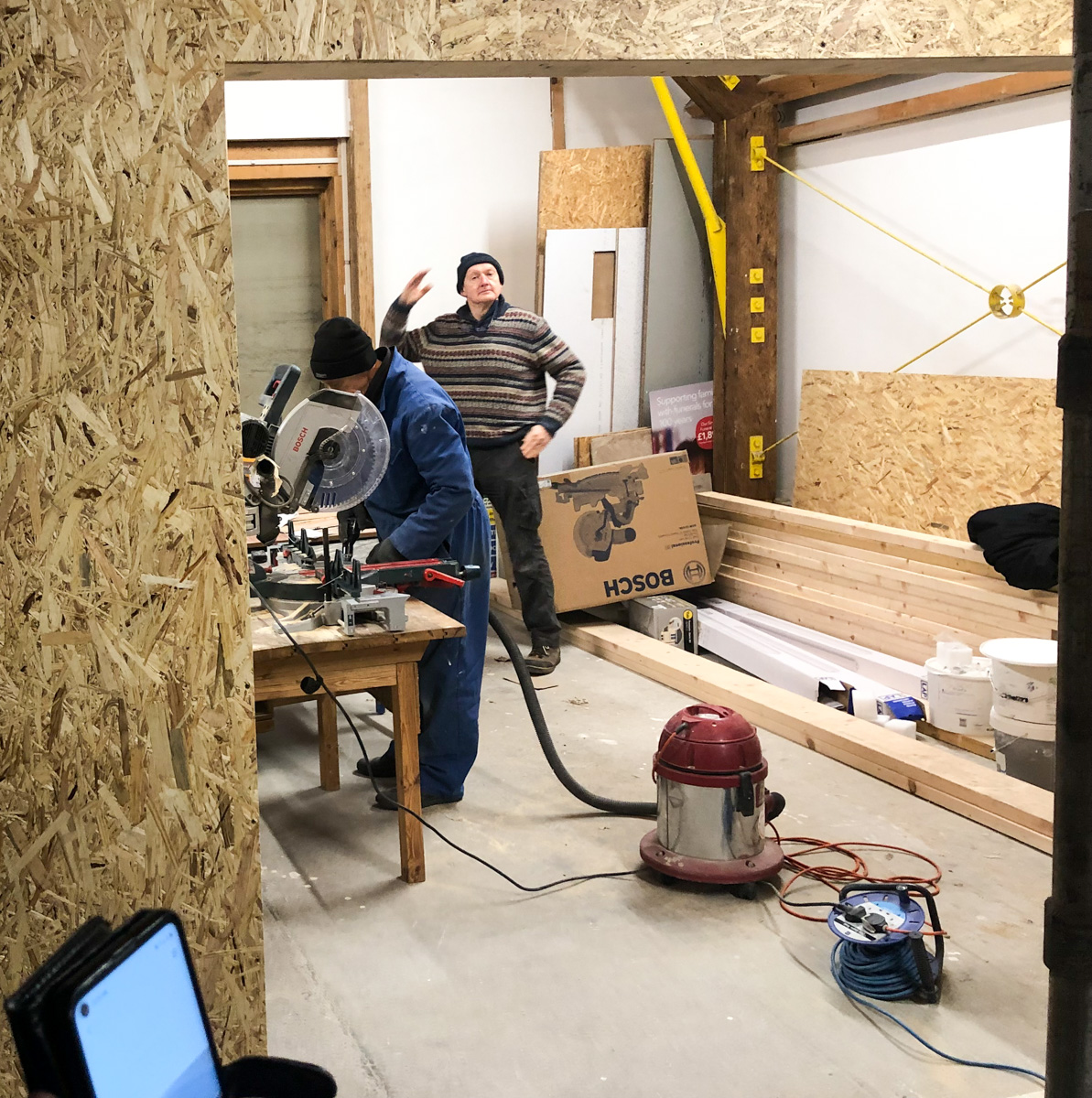 December 2021
Fixing OSB board to the walls for strength.
Then covering with plasterboard to give half hour fire resistance.
Graham O doing a round of inspection.
Keith with a bandolier of plasterboard fixings.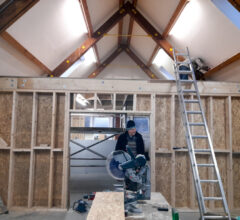 November 2021
It is a surprisingly tough job to pull cables though, especially when somebody has drilled the holes too small!
Dennis makes sure all our wiring is to regulation.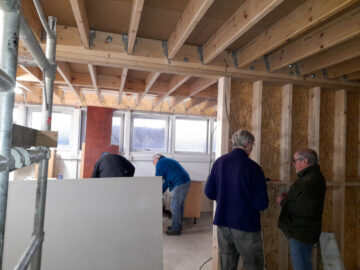 November 2021
Dennis makes sure we understand the cabling for the second ring main.
November 2021
It is going to be a great space up here!
Brian takes on the job of fixing all the upper floorboards, helped by Adrian and shown here, Peter.
November 2021
The second beam goes up quite quickly.
It is slightly 'banana shaped' so we are quite pleased when we manage to make the middle of it perfectly level!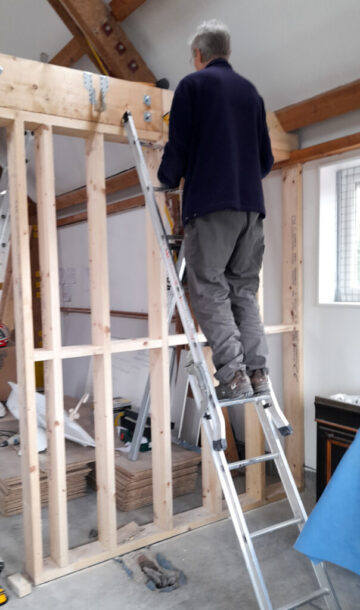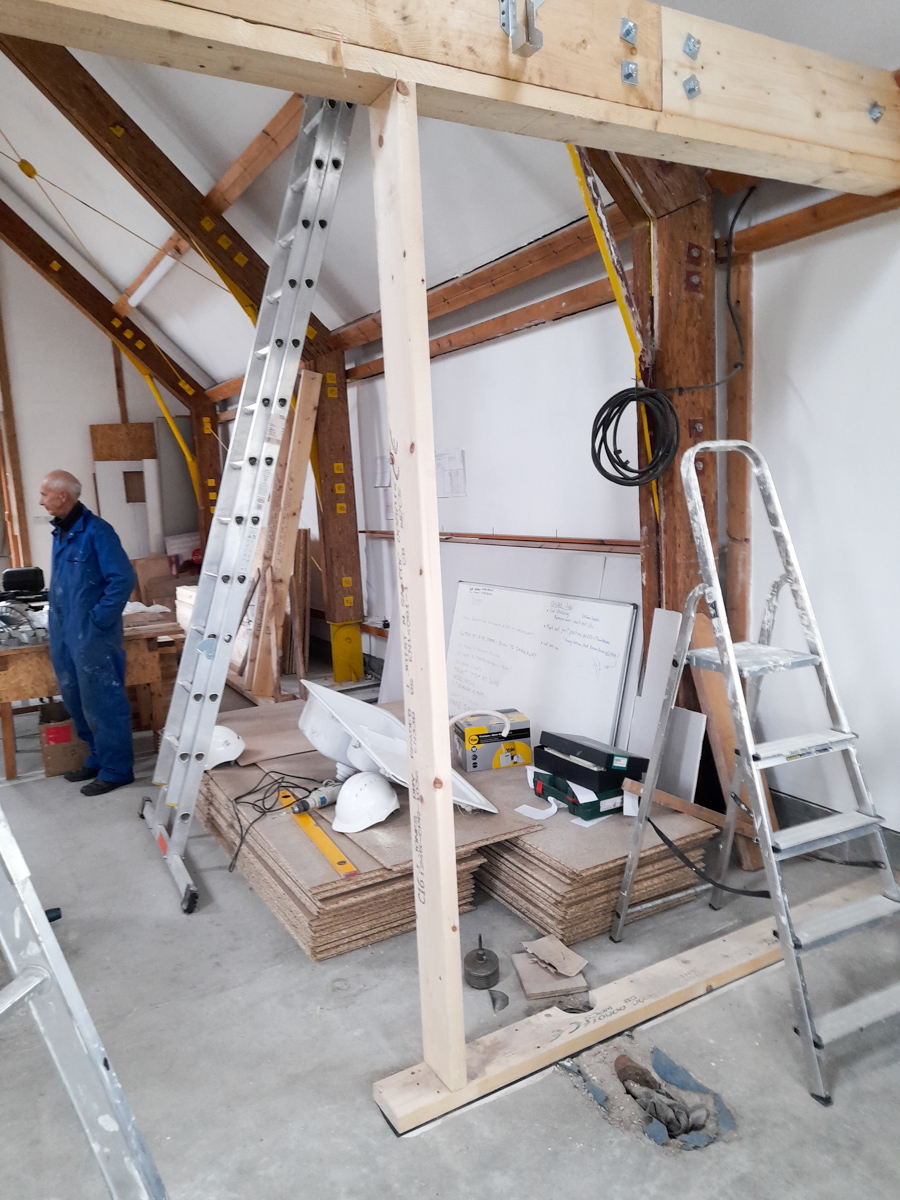 October 2021
We start constructing the first structural stud wall, which will become the permanent support for the beam.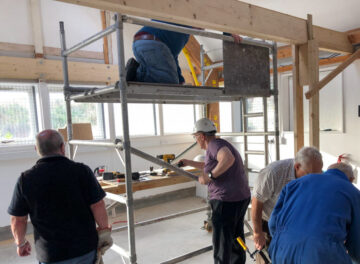 October 2021
Very quickly we start feeling it is safe to walk under the heavy beam.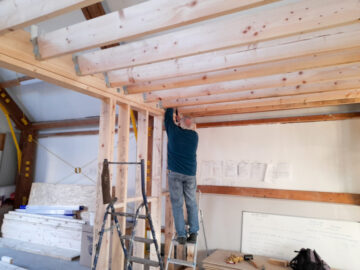 October 2021
Adrian starts fixing joists to the beam.
October 2021
Adrian getting ready to drill the 16mm holes  so the beams can be securely bolted together.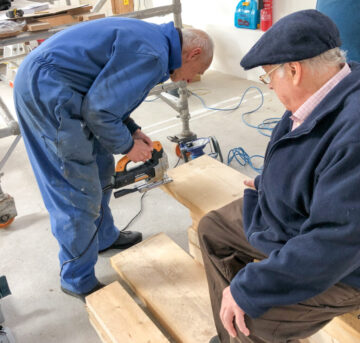 October 2021
The timber arrived from Percy Hudson.
Brian and Graham W started cutting to make one of the big twin beams, which will hold up the new mezzanine.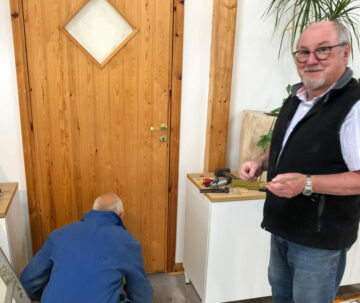 September 2021
Everyone helped with this community task for the Dance Studio.
Jayne wanted the door to open the other way so we removed the frame and turned the whole thing round.
September 2021
We painted some more.
We wondered when we would hear from Building Control.
And we fitted two new LED strip lights.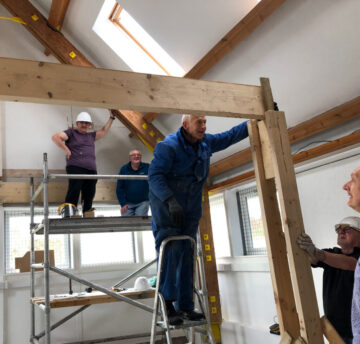 October 2021
A dramatic moment the first half of the beam is propped up.
October 2021
Our plans receive approval!
August 2021
We started looking at becoming a registered charity, we re wrote our safety policy and we got some lottery funding!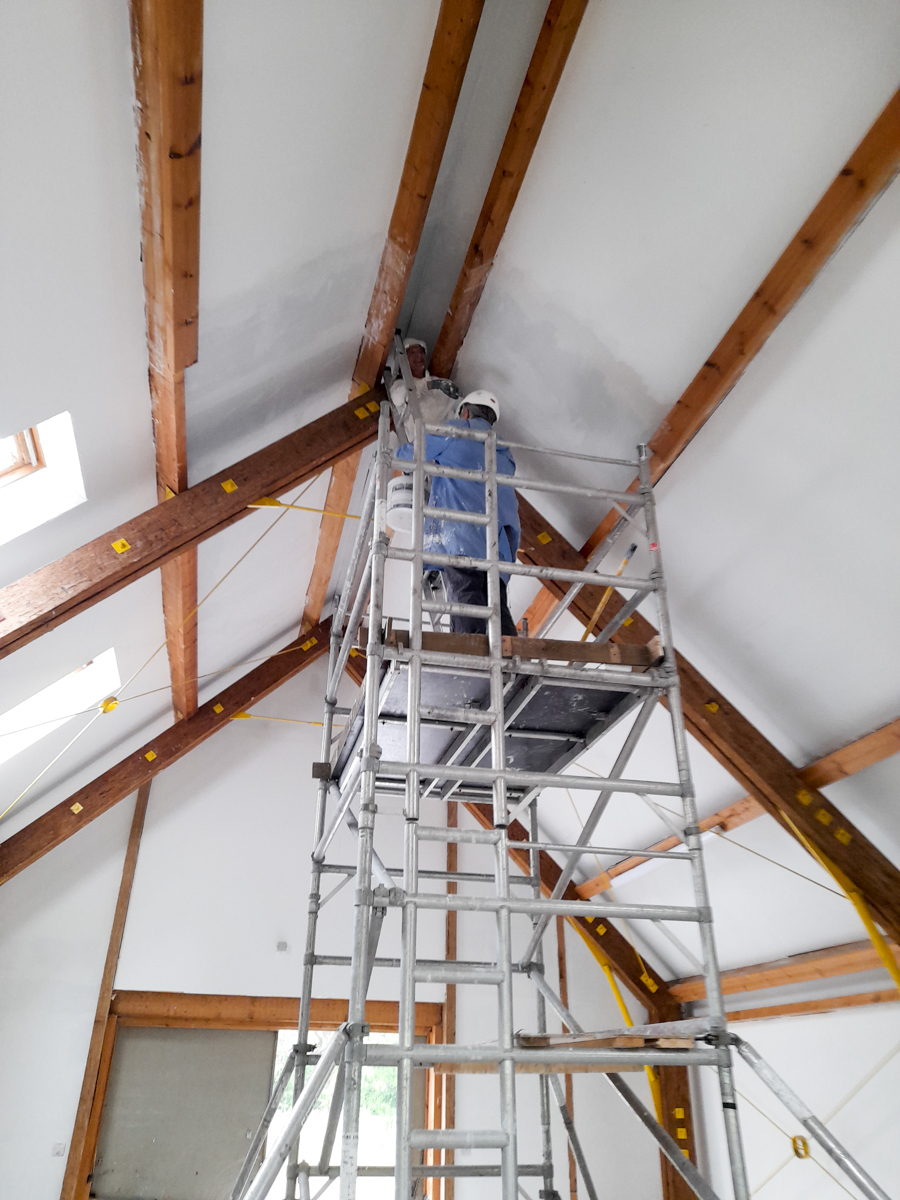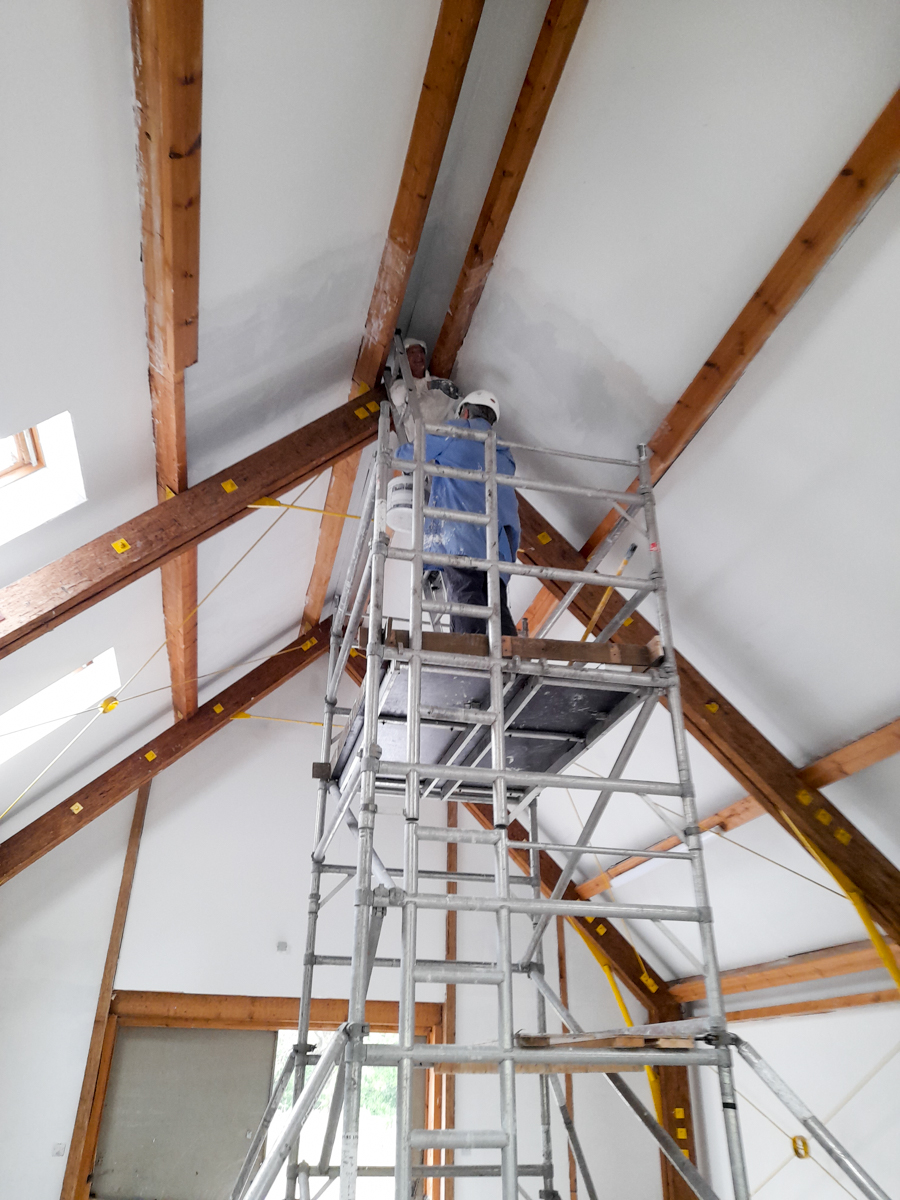 August 2021
We painted and painted and painted.
As soon as we hear from Building Control we will start the Mezzanine.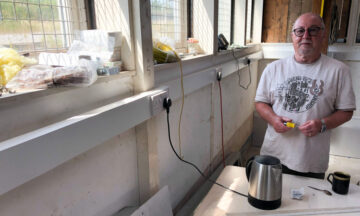 July 2021
The Ashington Veterans and Elders Institute make flowers, which they sell to raise impressive amounts of cash for an NHS charity. The veterans asked for some help cutting petals and Caroline volunteered saying she might cut 'one or two'!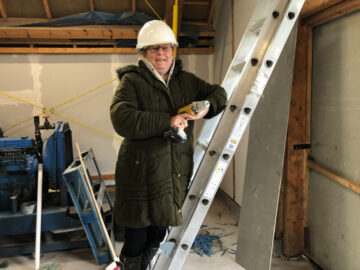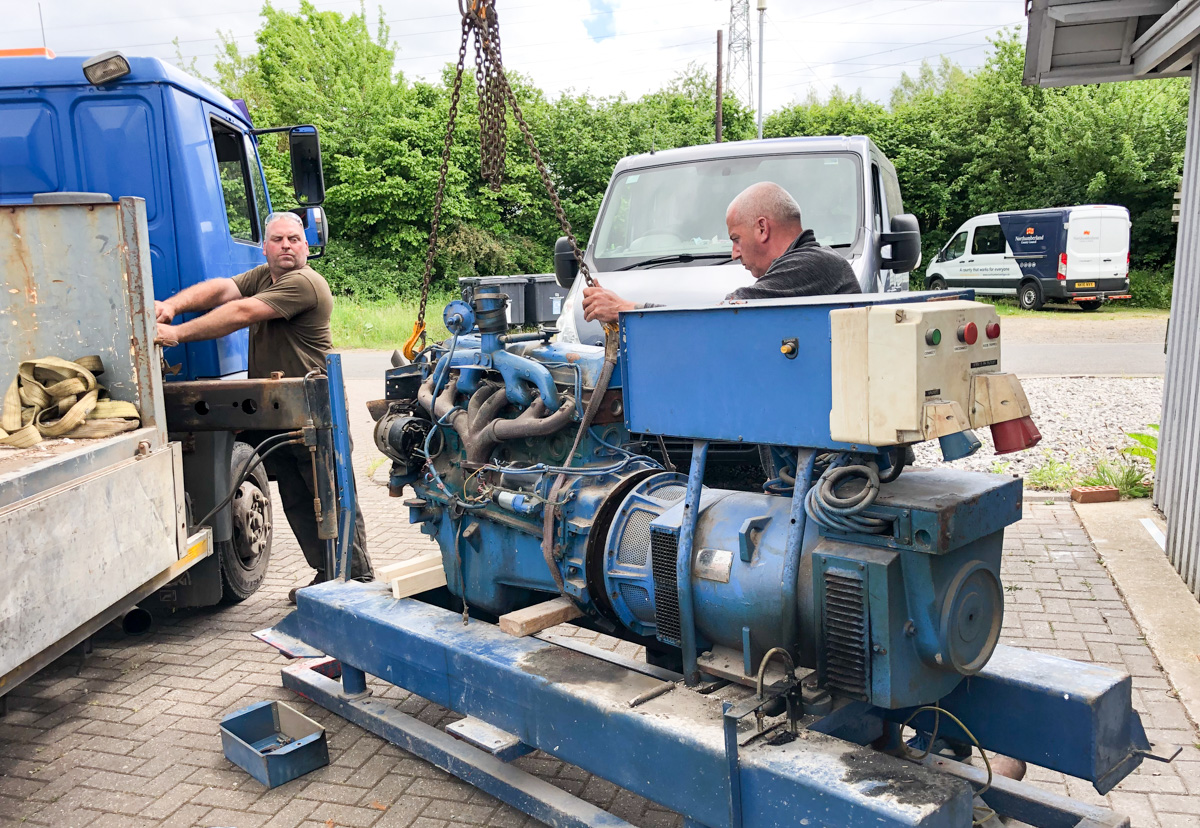 June 2021
Caroline worked with everyone.
The diesel generator was sold destined for a new life at sea.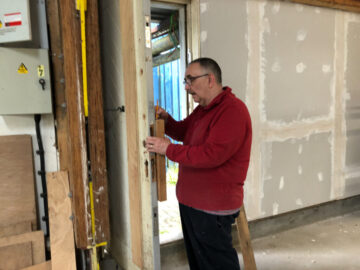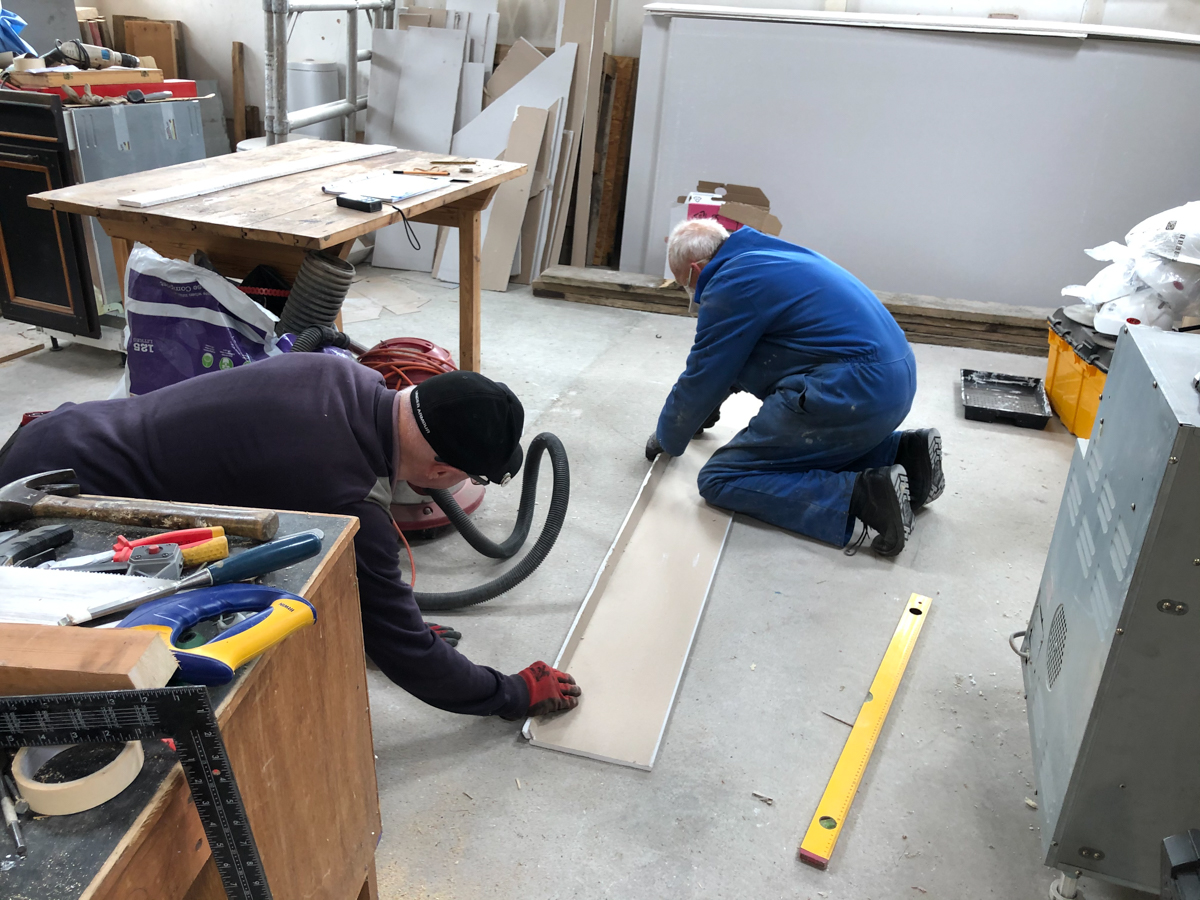 May 2021
Keith strengthened the side door
George and Brian cut yet another piece of plasterboard.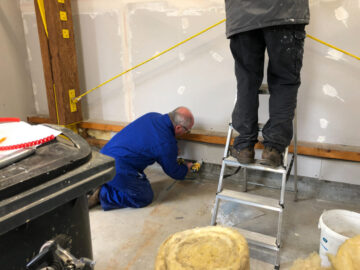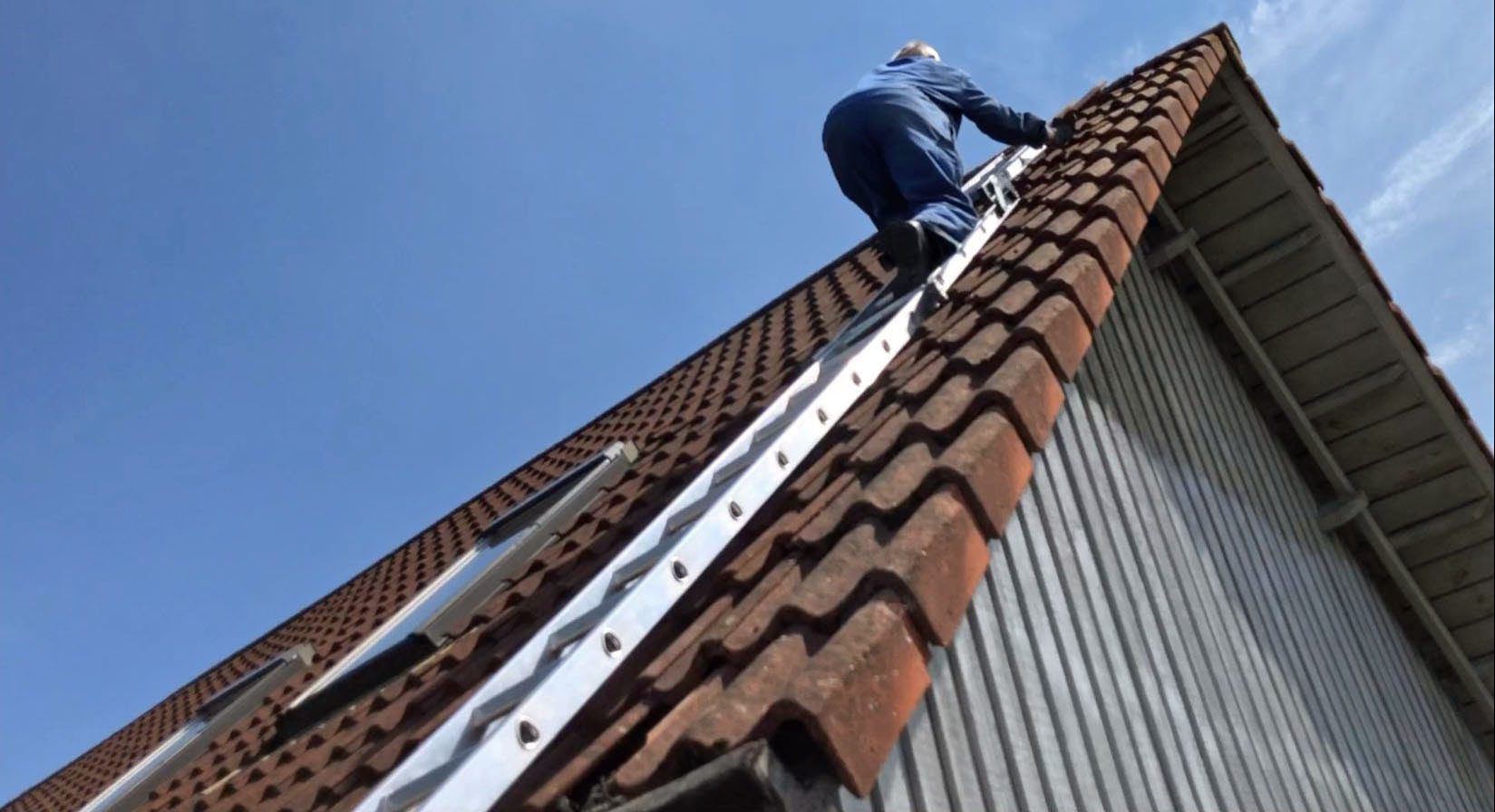 May 2021
Dennis fixes one of the final pieces of plasterboard.
Brian needs two ladders to replace a high tile.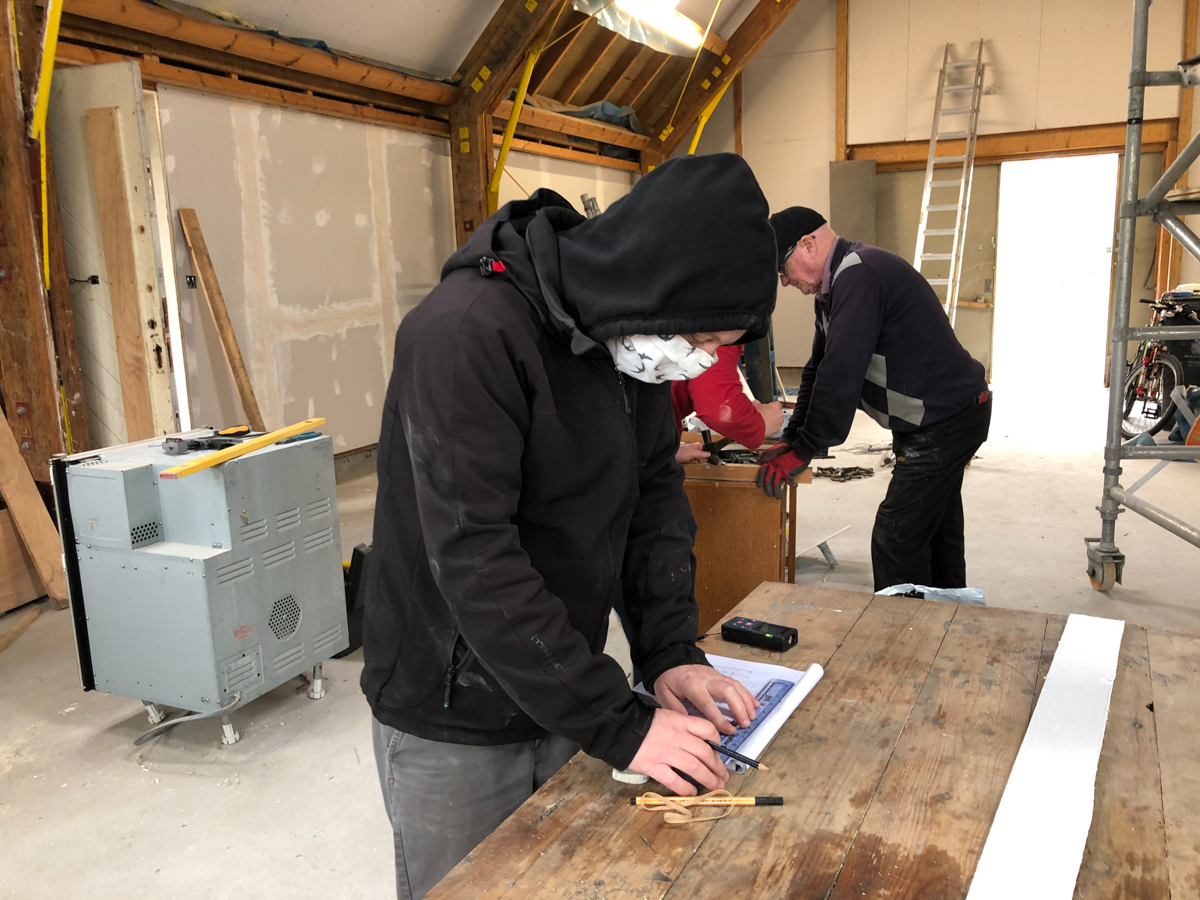 May 2021
Mark took charge of accurate drawing.
We gave up trying to find a professional to help with our building regulation application and in the end Rob sharpened his pencil and sent some drawings to Northumberland Building Control.
April 2021
Brian and Rob hired a van, drove to Hartlepool, found the 'olde Sweet Shop'  and brought back this magnificent 6m high scaffold.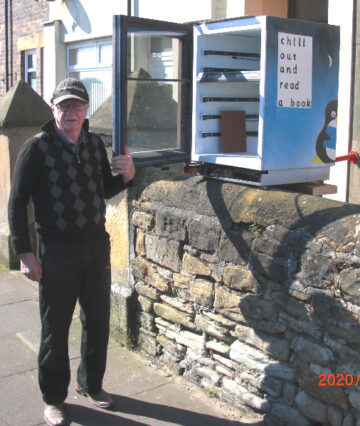 April 2021
George answered a call from a new community centre in Cambois to make a free mini library.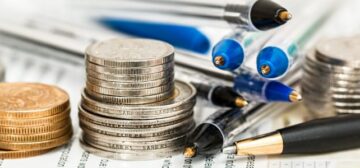 February 2021
With advice from Keith Nicholson we increase our bid for resilience funding to finance the refurbishment of the Energy building with the promise of a peppercorn rent.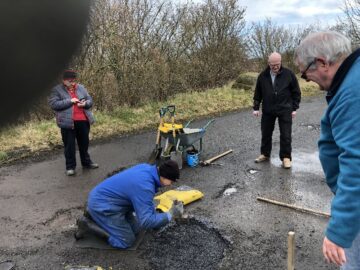 March 2021
Keeping well distanced because of lockdown Keith, George, Brian, Adrian and Rob repaired the Earth Balance tarmac drive.
January 2021
Rob started learning how to make a website by watching 4 hour videos by the very clever Hogan Chua.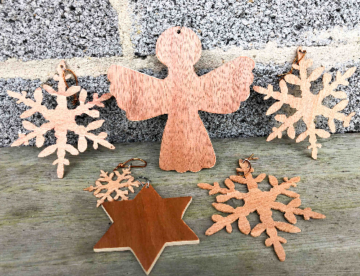 December 2020
Keith, Caroline and Rob did make a few decorations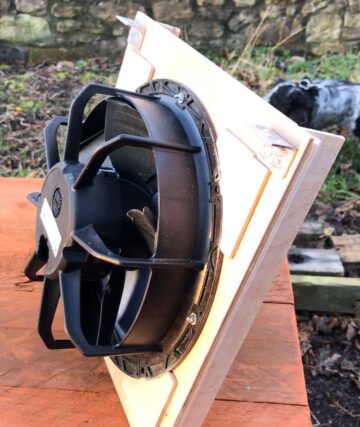 November 2020
Mark is making a fan and Hepa filter to ensure dust free spray booth work.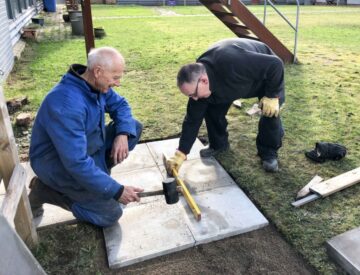 October 2020
Brian, Keith and Rob using a rubber hammer to practise the black art of paving. It worked with perfect wobble free flatness!    Autistic centre can now use a covid safe exit.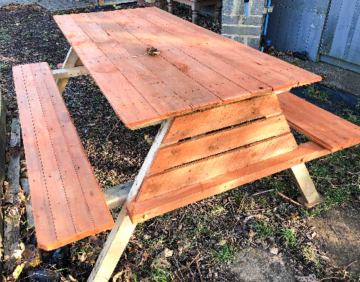 November 2020
Brian made a 2nd table for the MPA Dance Studios
November 2020
Mark's fan, look at the finely engineered sliding seal.

October 2020
Caroline made these decorative hearts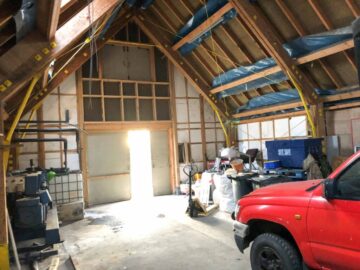 October 2020
We had a first look inside the Energy Building, which we hope will be our new workshop at the end of the year!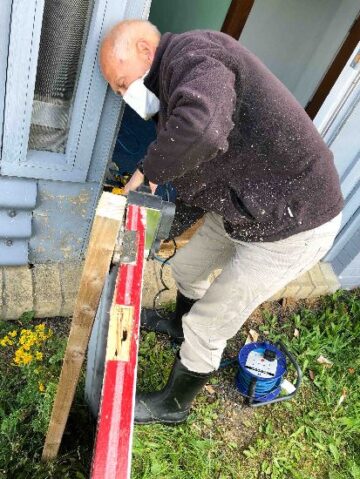 July 2020
Brian and Rob repaired the Toby Henderson door (again) it was tricky to find any un-splintered timber to fix into!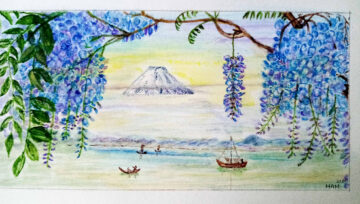 May 2020
Margaret again has a Japanese theme in this painting.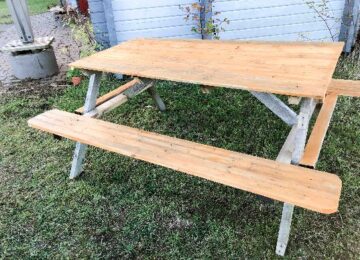 September 2020
Dennis, Adrian and Rob made a table for the new dance group on site.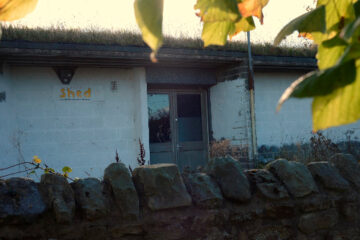 Workshop closed
 from 17th March. We Opened again at the end of July 2020 with restricted numbers in the workshop and face masks required inside the building.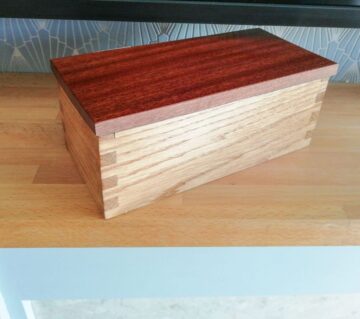 April 2020
It is heartening to see George managed to make this smart box during lockdown.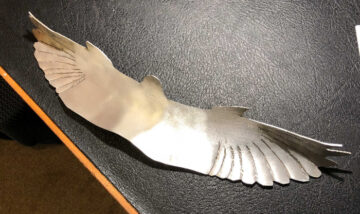 August 2020
Rob started on a kestrel shaped weather vane.
May 2020
Don made this bird feeder Japanese style.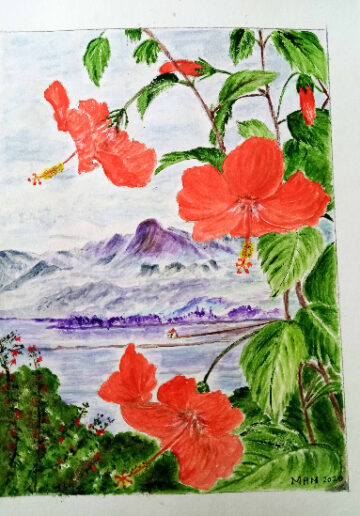 May 2020
Margaret may not be able to get into the shed just now, but she seems to know what she is doing with a paintbrush!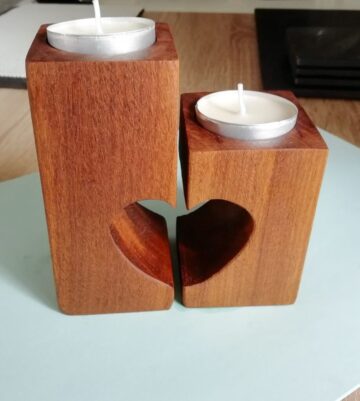 April 2020
George is going to find a lot of people copying this romantic candle holder!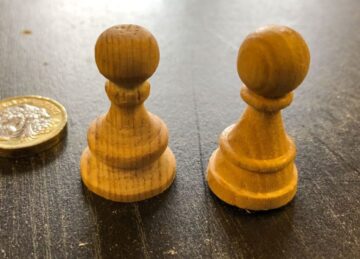 April 2020
George made a copy of this pawn, but which is the original?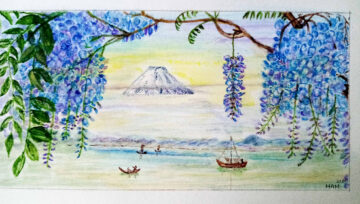 May 2020
Margaret again has a Japanese theme in this painting.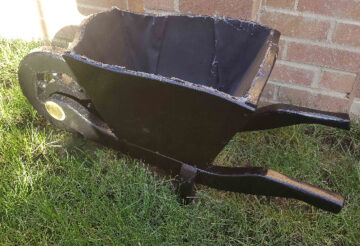 January 2020
Rob finished another wheelbarrow planter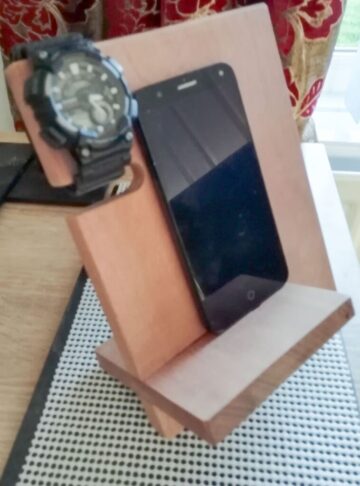 April 2020
George keeps designing new phone stands, this one is neat and it also holds a watch.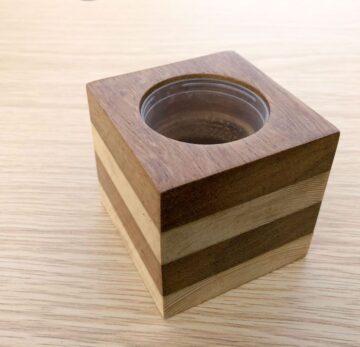 March 2020
Brian M, recently joined the shed and already he has made this little cactus holder – his first Shed project!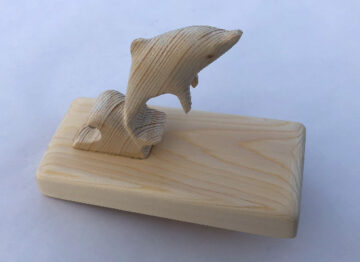 January 2020
Brian's Dolphin on a wave. Look at the quality!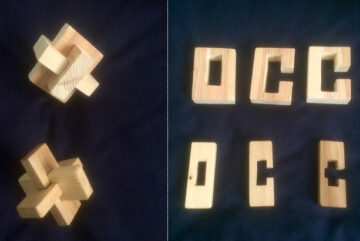 To do or knot to do?
Some of us have been trying to solve this puzzle for longer than Brian has taken to accurately mark and cut and make them fit together!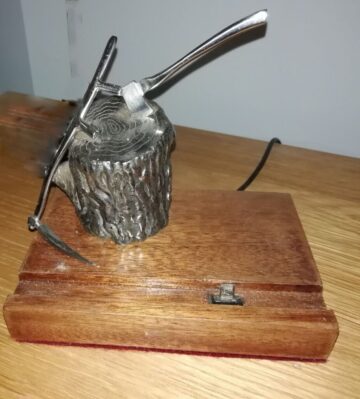 January 2020
George made this stainless steel log and axe some time ago, but now he has used it in his new phone charger stand.
January 2020
Rob then added a little brass plate so the new owners of the planter would remember where it came from!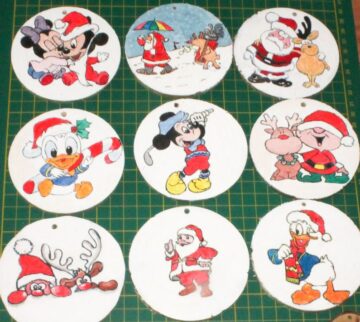 December 2019
George has been creating these wonderful painted Christmas decorations.
November 2019
Keith is lying down on the job in the kitchen, but making a brilliant job to undercut the door jambs, whilst Rob is having a pensive moment, admiring his work and thinking about where to lay the next board.

September 2019
Rob was pleased with the look of his signs to point people in the direction of our shed.
July 2019
Colin took a little bit of bench top and made this sleek dolphin. The fixing of the stand was an engineering triumph!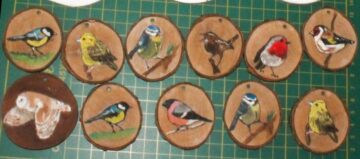 December 2019
George made these Christmas decorations by slicing small logs and then painting these delicate  bird images.
November 2019
The floor is nearly done, but what about the dust?

September 2019
Shame Rob's signs did not really stand out so he painted them. Now he just needs to fix the blistering paint!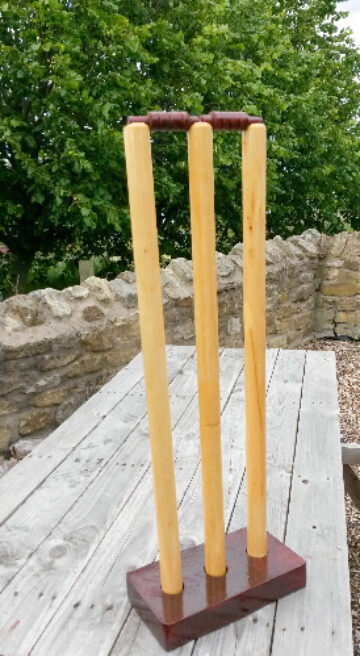 July 2019
Dennis made these fabulous cricket stumps for his lucky grand children!
November 2019
The Shed had a request from Carers Northumberland to help a couple in Amble. They had seen hard times over the last year and had been living on a concrete floor. The Shed took on the challenge we laid a laminate floor.  The magnificent three, Rob, Keith and Brian did the job, though there were a few tired limbs the next day! Age creeps onwards!
November 2019
We had enough laminate to do the entrance hall as well.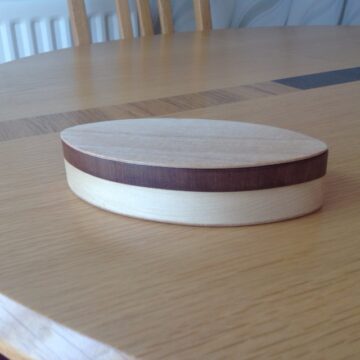 August 2019
Yet more creativity by Keith … An beautiful elliptical box.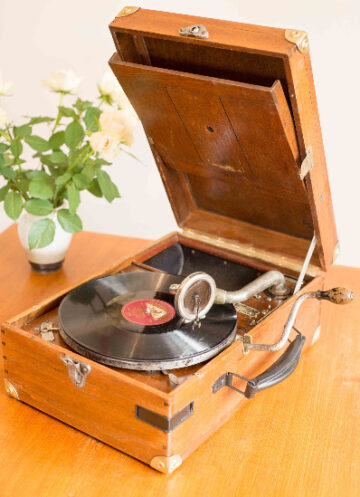 June 2019
Rob found this 1927 gramophone in a ditch fifty years ago. It needed some repairs, a little tidying and now it is ready to play "Enjoy Yourself"!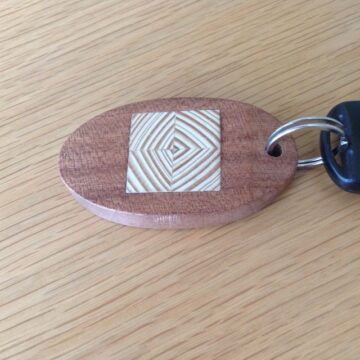 May 2019
Keith got creative with end grain making a Key-fob.
May 2019
George made this neat box with impressive mitre corners.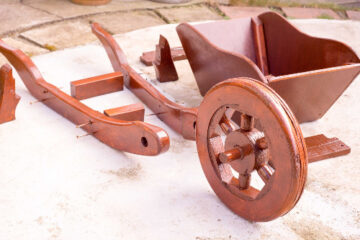 April 2019
Rob then took the wheelbarrow  apart again to apply wood preservative in every joint.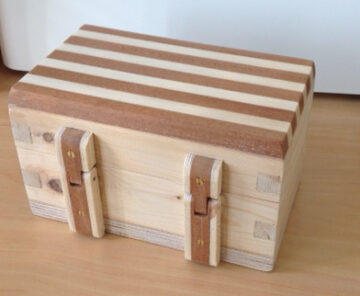 March 2019
Keith's jewellery box has a two tone lid, bespoke hinges, a velvet lining and his insert tray sinks slowly in place as the air escapes!
May 2019
Keith's speciality … another box … his wife must have a lot of jewellery!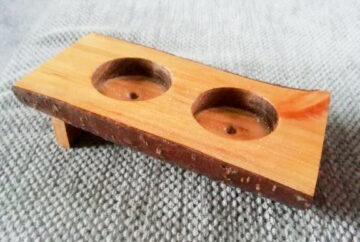 May 2019
George developed the candle holder idea using this attractive cherry wood branch.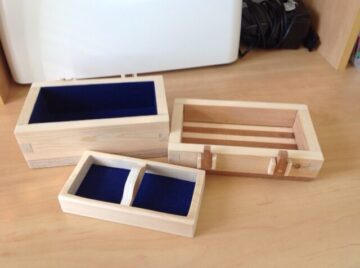 March 2019
Keith started, simply playing with dovetails, but he kept adding interest until he had produced a classy Jewellery box.
May 2019
Keith's end grain symmetry makes the lid special.
April 2019
Rob declared his wheel barrow planter finished.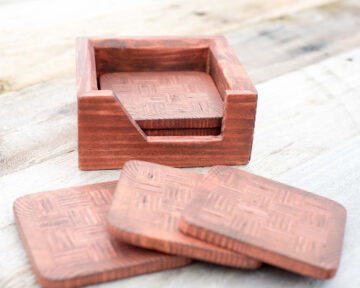 February 2019
Mark made these rather clever coasters.

February 2019
Mark completed these bespoke planters and installed them in the Toby Henderson garden.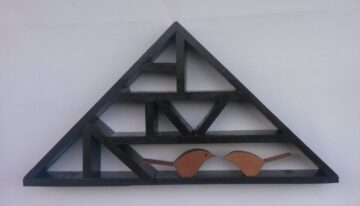 December 2018
Caroline made this stylish display case for her mineral collection.

October 2018
Brian made this smart plant pot rack and Mark added the decoration.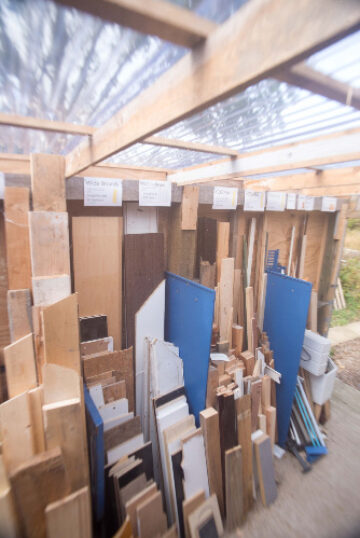 September 2018
We begin to get the new wood store organised.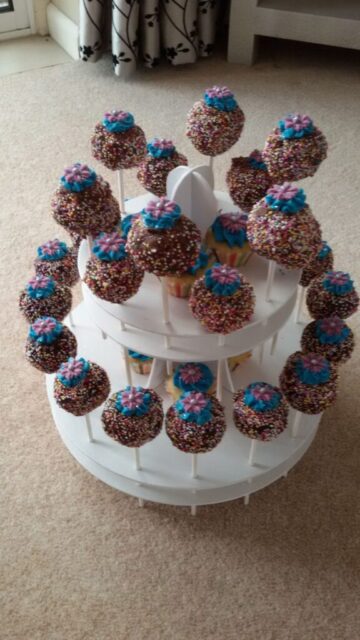 August 2018
Steve made both this unique cake stand and also these 'lollipop cakes'!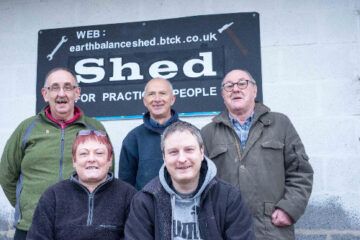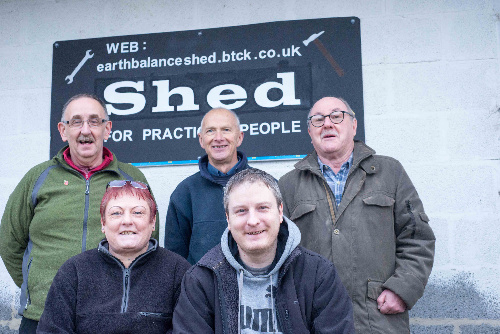 November 2018
Brian made this large sign for the front of the shed. It is rather grand!
October 2018
Enjoying autumn sunshine and testing Brian's design for a new picnic table – all made from pallet timber!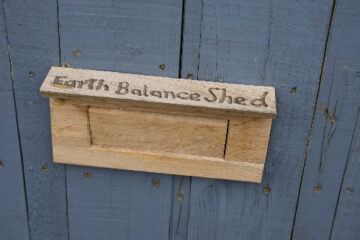 Sepember 2018
We add a letter box to the new wood store.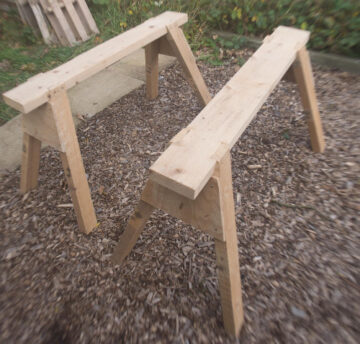 July 2018
Brian made these brilliant sawing trestles.
April 2018
Mark has been busy making coasters for a sale of goods later in the year.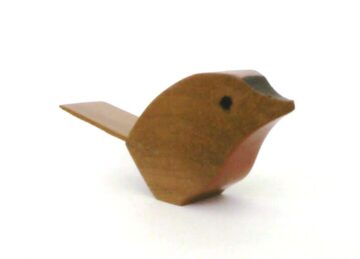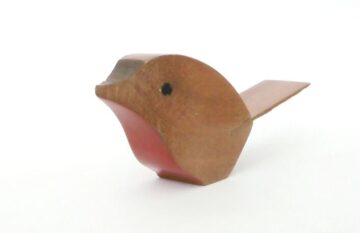 October 2018
I bet Brian is going to have a few people trying to copy these robins!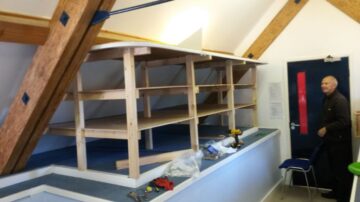 October 2018
Rob and Brian made these large shelves for the Toby Henderson Autistic Centre.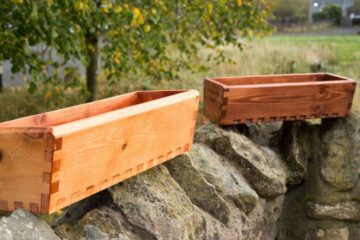 August 2018
Mark likes to give himself a challenge – these dovetails are so accurate!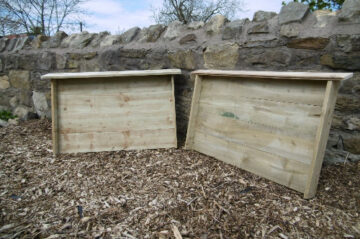 May 2018
An order was placed by Bedlington Dr Pitt Allotments for 5 outdoor notice boards.Two shown here.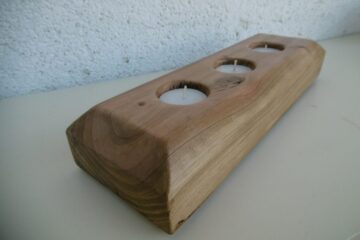 April 2018
Mark also made these candle holders.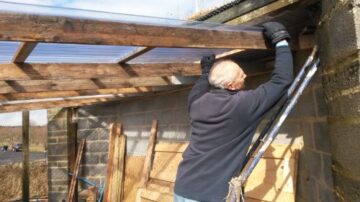 March 2018
Brian topping out with the final roof panel of our marvellous new lean-to.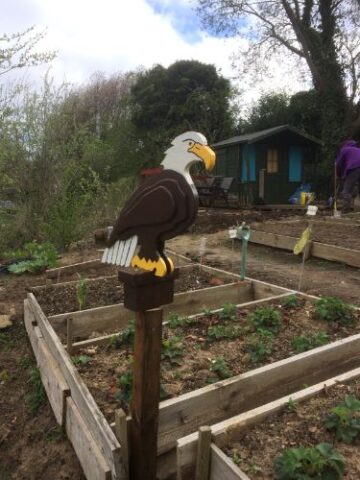 January 2018
The eagle landed at the allotment and fitted with a rotating base, so its a weather vane as well !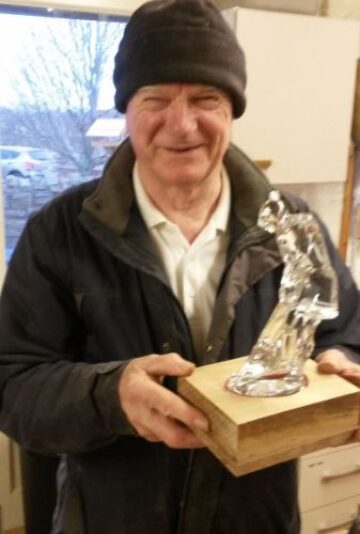 January 2018
George is making this base for a golf trophy. He is using a mini router for accuracy.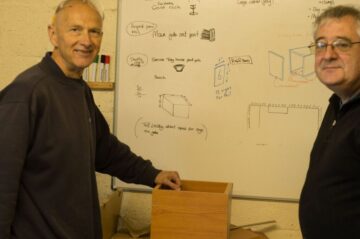 April 2017
Brian made a new adapter for a circular saw blade when a request came in from the Autistic Centre requiring a cube to be constructed. This filled a Friday afternoon for Brian and Adrian.
March 2018
Building the new store. Soon we will have a secure place for all our timber.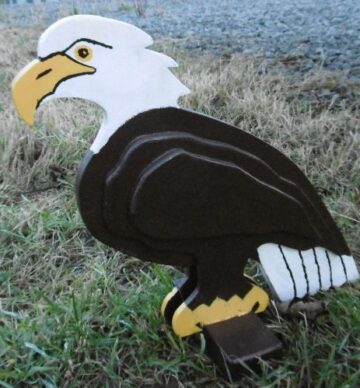 January 2018
Brian's eagle has a scary look so the crops do survive and the pigeons stay away!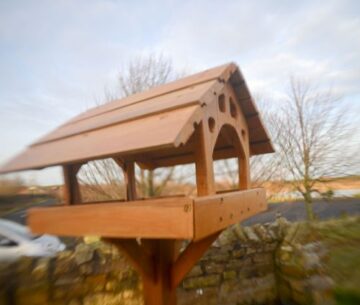 December 2017
Rob completed his bird table, made from recycled maple, which came from the London Underground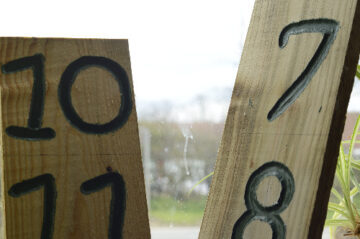 March 2017
Phil who runs Sleekburn Trout Fishery wants numbers for each of his fishing jetties. Dennis and Rob are learning how to use a router to do stylish signs in treated softwood. Maybe, we'll start a sign writing money making venture?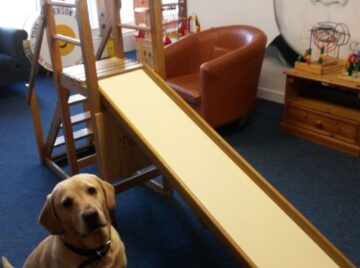 February 2018
Rob strengthened this slide for the wonderful Toby Henderson Trust, which does great work with children on the autistic spectrum. I am sure George the Labrador inspecting considered his work satisfactory!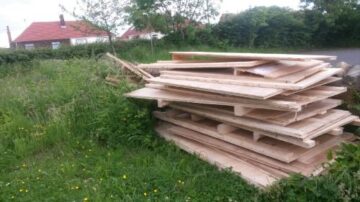 June 2017
We are gifted several loads of plywood from Carlisle Railway station refurbishment. Ideas now needed for projects using ply!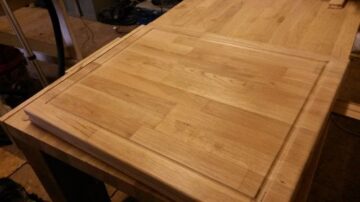 February 2017
Mark made this chopping board for his cousin, hope she likes it. Top marks for quality! To do the grooves he first had to refurbish a very old router and fix it to a donated router table.
s.
January 2017
We made a metal ramp to help Fresh element move their heavy wheeled racks.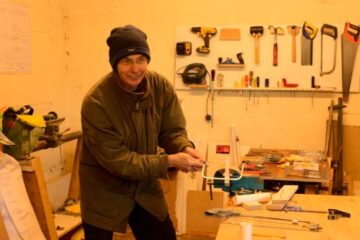 November 2016
We need a bigger tool rack.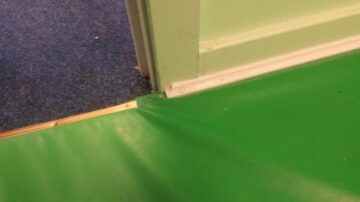 August 2016
We put new safety edging in two observation rooms at the Autistic Centre.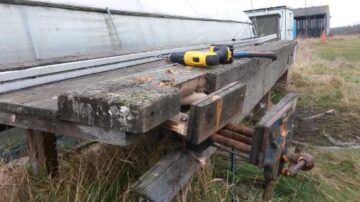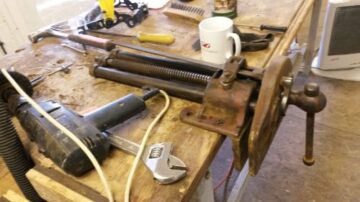 January 2017
NE Organics kindly let us rescue three lovely heavy vices.
October 2016
Is it straight? We put this sign up for the Toby Henderson Autistic Centre.
A little tricky because we had to move the light first!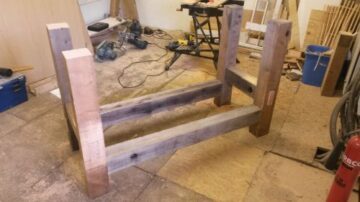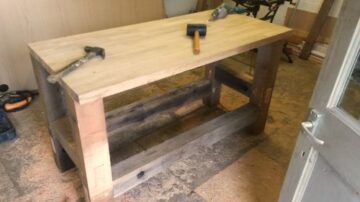 August 2016
We built a strong bench with hammer-tight mortice and tenon joints.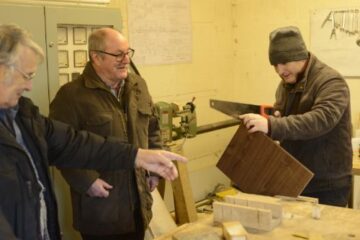 January 2017
 Steve and Dennis help Mark to make – yet more – shelving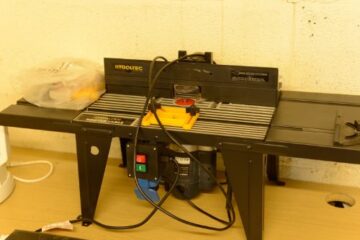 September 2016
We receive several more donations of tools.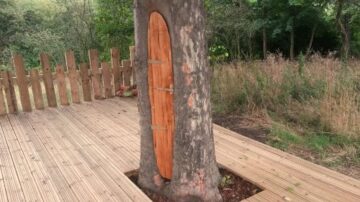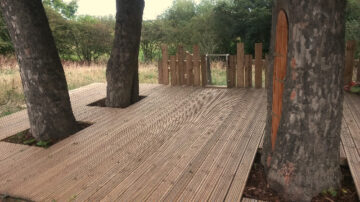 August 2016
We made a 'magic door' for the Earth Balance play area.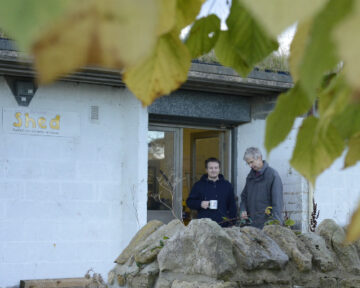 July 2016
We need more members! Some people are busy for the summer, though 8 new people turn up one Friday!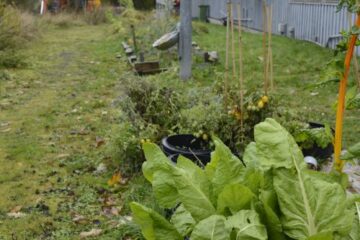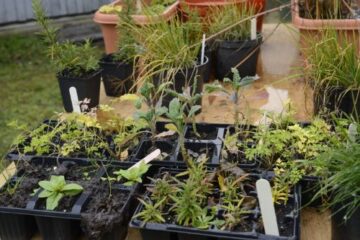 May 2016
We clear rough ground and help make a herb garden on Earth Balance site for 'Fresh Element' – they have the restaurant at the Baltic!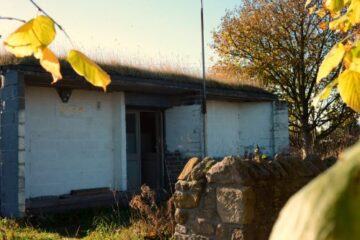 March 2016
A setback
We have the use of the grass roofed building, but one director worried about safety blocks a gift of tools.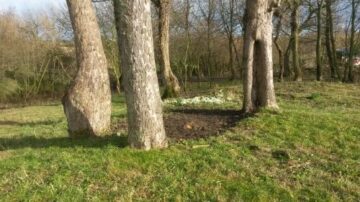 Early 2016
Earth Balance wants a play area here.
April 2016
Kind people donate tools: We get this woodwork lathe working.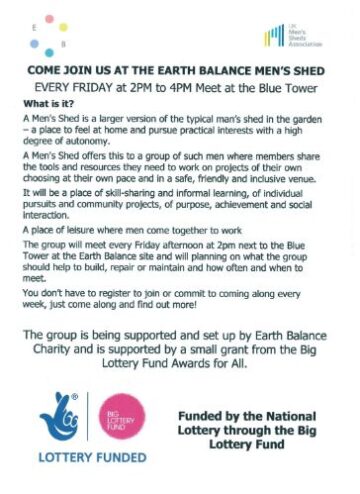 February 2016
We deliver hundreds of leaflets to encourage new members.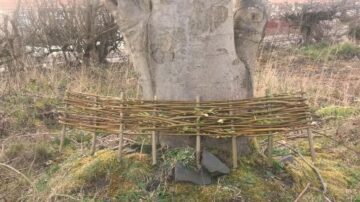 February 2016
Two members
No tools
No materials
Lots of live willow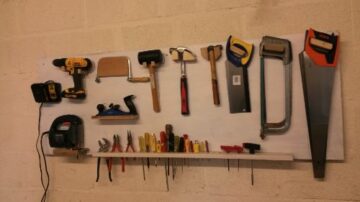 April 2016
We spend £214 lottery fund money on new tools.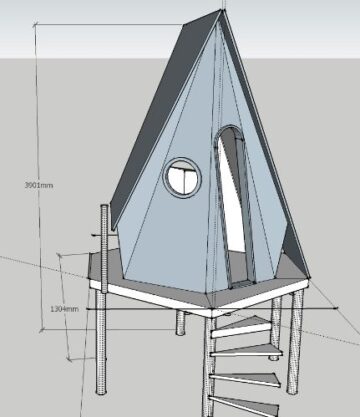 March 2016
We wonder, "Can we build a tree house?"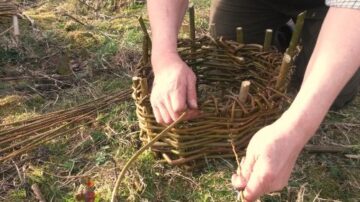 February 2016
Lots of support from Keith Nicholson, manager of Earth Balance site.

We decide to teach ourselves willow weaving!